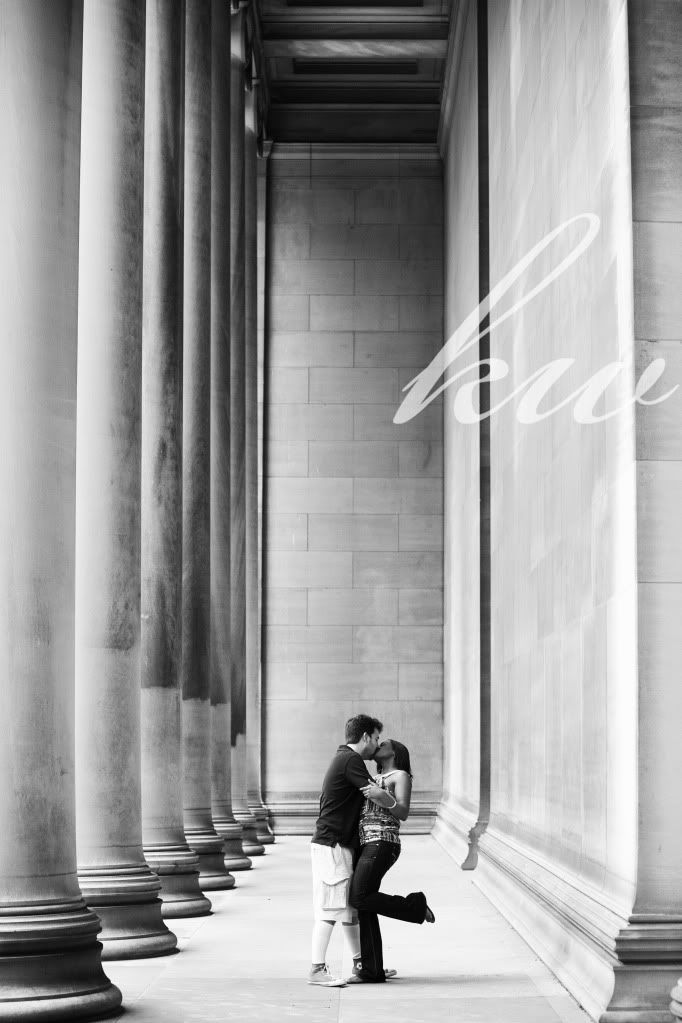 Most of my couples come from referrals, which is great, since I already know we will have a connection. But Phillip and Shayla found me through the internet, and we'd all only talked online. So I was a little nervous as I prepared for their engagement session!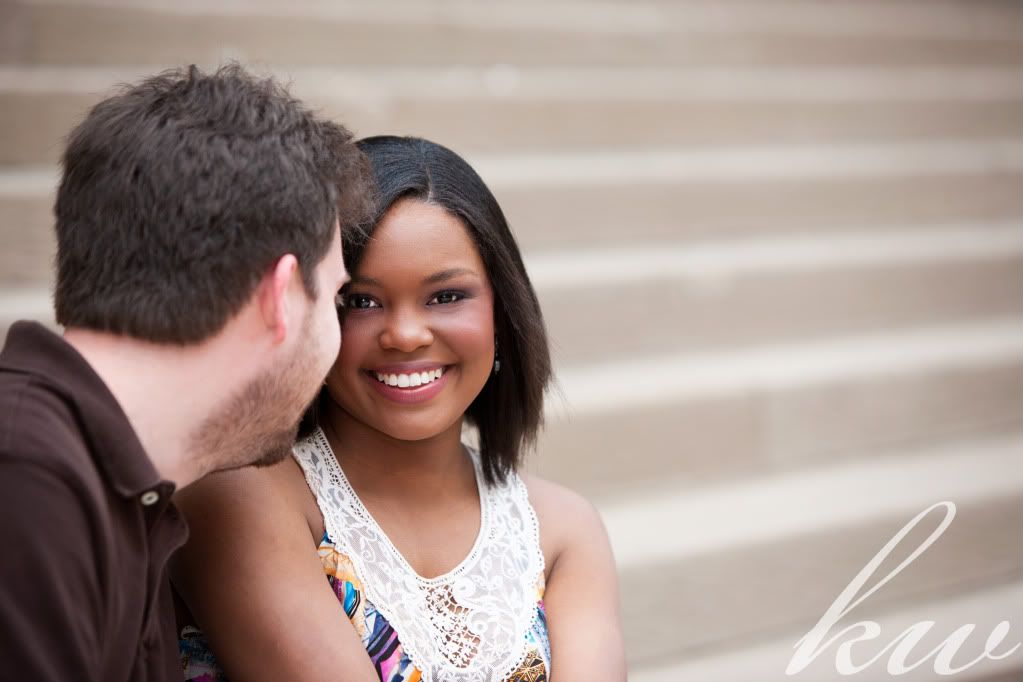 I highly advocate doing an engagement session, since it really helps you get to know your photographer. It also allows you to get comfortable in front of the camera. You learn your best angles. And you find poses you love (and poses you can tell the photographer to avoid on your wedding day). Another great plus to engagement sessions is getting to see how great your partner looks in the images. There is always an image where you look at your husband or wife-to-be and think "Wow, he really looks cute from that angle" or "I love her eyes in this photo."
I met up with Phillip and Shayla at the Mellon Institute. I love the light here, and it also provided some cover from the rain, since the weather had been quite stormy in Pittsburgh. Overcast is the best light sometimes, and I miss those shooting conditions already down here in sunny Florida! Since Mellon Institute is practically an institution for portraits in Pittsburgh, I like to challenge myself to use it differently than I've done in the past and use different angles and poses than other photographers.
Phillip and Shayla met online. I loved hearing them tell their story-Phillip started it and Shayla jumped in to finish. Shayla had tried out a dating site a few times previously without meeting "the one." So she decided that this time around would be her last attempt with it. Lucky for her, Phillip was just signing up. It was his first Match.com date and her last…and it was their last first date ever.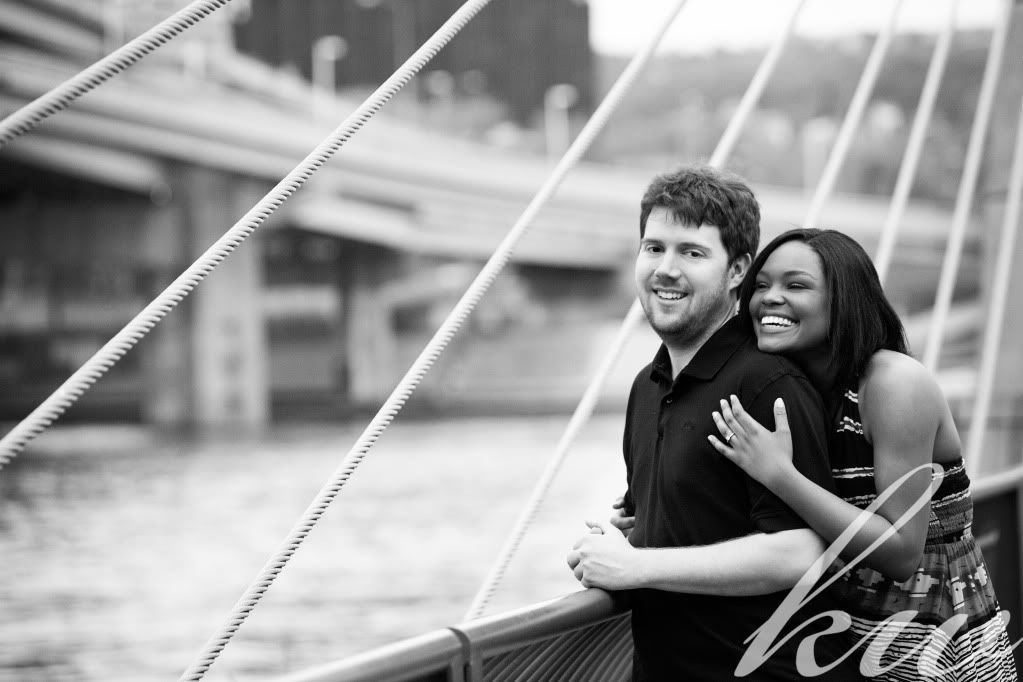 It turns out, Shayla actually attended college with one of my 2010 brides, Amy-it's a small world! After college, Shayla also received training in working in a vet's office and currently cares for the animals there. Phillip works for a local university.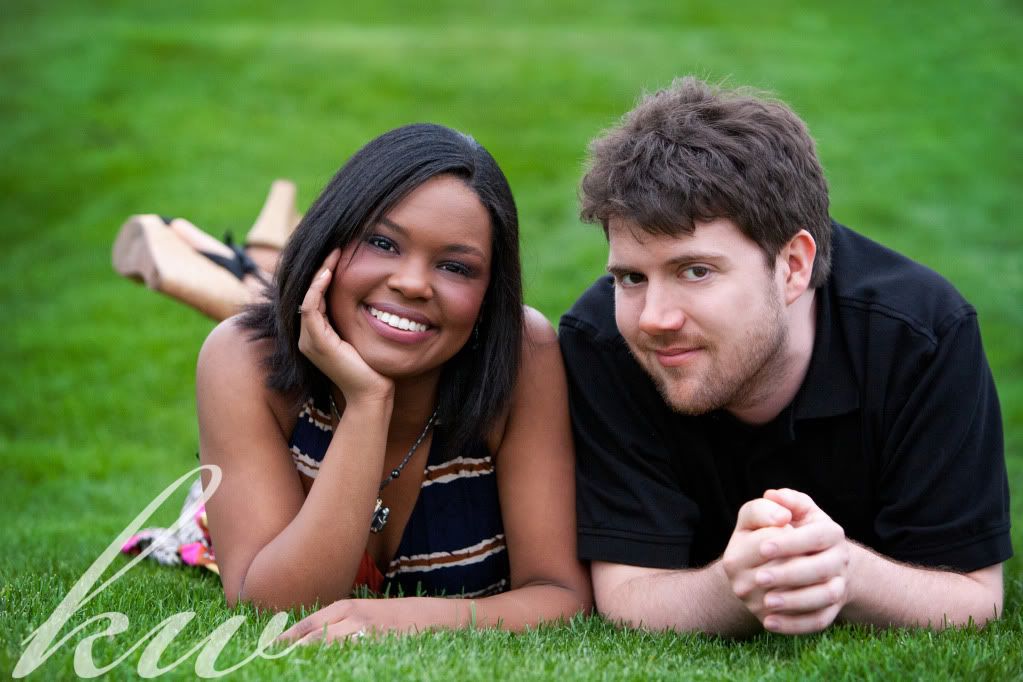 They're currently dealing with a little bit of a long-distance relationship, so I know they are eager for their August ceremony and reception in the South Hills to be able to spend more time together and not have to travel back and forth so much!
We had so much fun chitchatting and getting images that I accidentally kept us out way past the end of our session time-oops, and it was on a school/work night too. Sometimes, when you have a couple that is really sweet and fun, it is hard not to get carried away with just getting "one more shot!"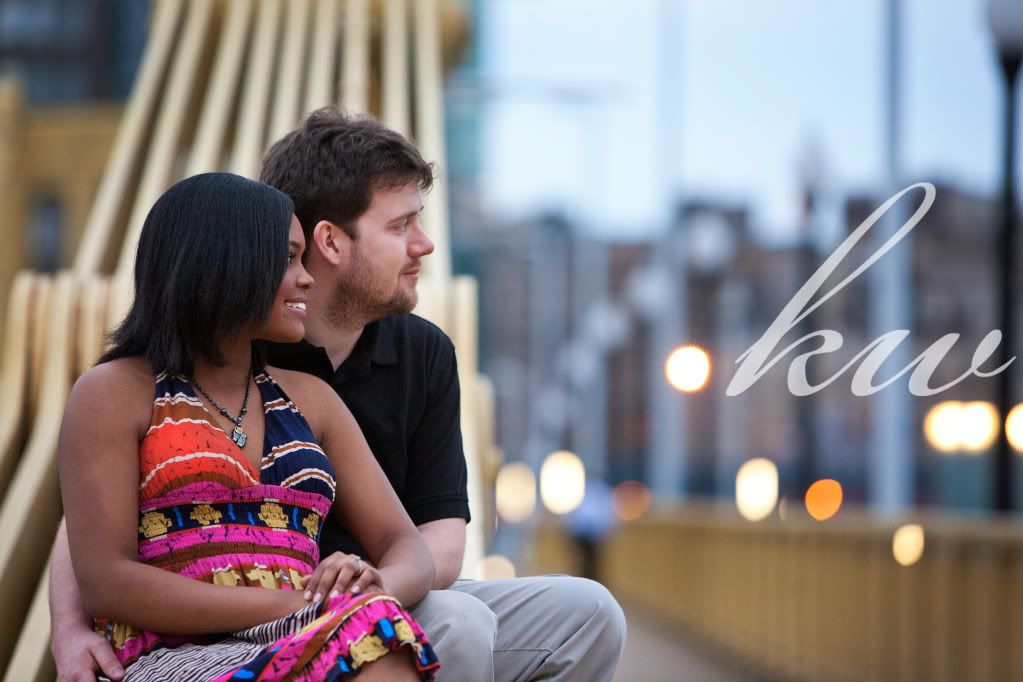 I can't wait for your summertime wedding-I'm so excited! It was SO, SO good to meet you two! Congrats on your engagement!
---
Just another foot-a few inches-and this wedding never would have happened.
Their first meeting was legendary and featured in their ceremony programs. I read their program and wanted to share the story here. And it is one of the best "How I Met Your Mother" stories I've ever heard. Bethany was a freshman at Duquesne University, the first day of school. She was commuting and new to driving in the city. And then, there was almost an accident. As Bethany drove to class, a student with a backpack stepped off the curb. He wasn't looking.
Fortunately, it was a near miss, and quite possibly, it was fate. Just another foot forward, things could have been very different. Just another foot backward, maybe they never would have met. Bethany slammed on her brakes and, like any good city driver, shouted some choice words.
Shaken up, she went to campus. She struck up a conversation with a good looking, sweet guy named Patrick. And some time later, she offered Patrick a ride home to his parents for the weekend. She hadn't recognized Patrick from their first meeting, in the middle of the crosswalk, that first day of school. But as he walked out of the dorm, she definitely recognized his backpack as belonging to the student she almost hit.
Now, I didn't get to ask if Bethany 'fessed up to almost hitting him, and I didn't get to ask if Patrick immediately recognized Bethany's car! 🙂
Hair: Bradley's Styling Salon North Huntingdon
Photobooth: Quick Pix! Photo Booth
Entertainment: Double Trouble
Transportation: Your Designated Driver
Ceremony: Christ United Methodist Church of North Huntingdon
Reception: Mt. Troy Ballroom
Cake: Cakes by Tammy
I've known Bethany since we were ten, but only met Patrick once, years ago. The morning of the wedding started off freezing cold, and my assistant and I drove down to a hockey deck in the dark. We waited, as no one was there yet. As we kept a lookout for our groom, my assistant asked "What does he look like?" and I thought back to our meeting for the best description I could come up with.
"He's really, really, really cute. Like really handsome," I replied. And on the wedding day, he and Bethany made for one amazing-looking couple.
The guys wanted to play deck hockey prior to getting ready, so we got some great shots of playing (and drinking), complete with silly glasses and the blackening of teeth.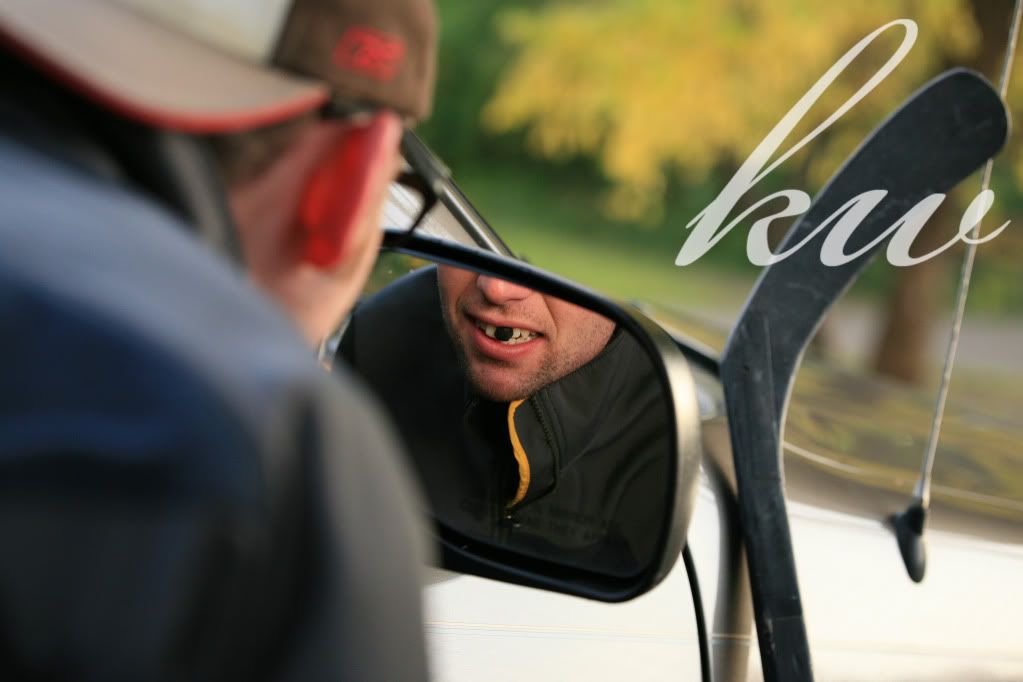 After Bethany got ready and donned an amazing gown, we headed to her childhood church. The last of the fall leaves clung to the trees and made for a gorgeous "first look" opportunity.
A first look is a chance to see your fiance prior to the ceremony, privately, when you can share a moment together without everyone's eyes on you. You look your absolute freshest and best. You can have some photos together in the best light prior to the ceremony. It makes the day go SO smoothly.
And coming down the aisle will still be special…you actually get TWO special moments this way. When Bethany told me she wanted to do a first look, I was thrilled. Moments like this together are priceless. Bethany knew Patrick would be emotional, so this first look was just perfect for them.
Bethany was escorted down the aisle by her grandpa who played a huge part in raising her. Because they did the first look, Bethany was able to make the most of her aisle walk. She locked eyes with Patrick and did not let go. I was shooting through tear-filled eyes here.
Of course, after the ceremony (for which Bethany's childhood pastor returned to officiate), we went to Duquesne University's campus for some portraits. The campus has PERFECT light.
And then it was off to the reception, where there was a cookie table, a candy buffet, a perfect wedding cake, and a photo booth for guests (and photographers-we jumped in for a few shots).

While photographing the rings, I noticed an inscription. "Better Together." That fits them as a couple, but they're being too modest. "Perfect Together" describes Bethany and Patrick as well.
Have an AMAZING honeymoon, you two! 🙂
---
They grew up on opposite sides of Pittsburgh. The possibility for a meeting was there, and they were already destined to be together, but for over twenty years, their paths never crossed.
Ryan was on one side of the city, while Ashley was growing up in my neck of the woods.
We became fast friends. While Ryan was playing baseball and doing other boy things, Ashley (among many other activities) agreed to act as my very first model for my photography.
The summer when we were sixteen was the summer that I started to get an interest in photography. I wanted to do a little shoot. I had a Kodak 35mm camera purchased from Walmart for about $30, two prop hats from my mom's closet, three willing friends, and absolutely NO clue what I was doing. Like every photographer, I sometimes still feel like I have no clue what I'm doing, but I know so, so, so much more than I did in July 2001.
For example, I always shot with film (yes, we only had film cameras back then, believe it or not) that was ISO 800. Why? Because the package advertised that it was good for "fast action." I wasn't shooting NFL football games- I was shooting simple snapshots of friends, so I have no clue why I would always get 800 speed film!
But Ashley and two other friends (Kaitlin and Kimmy J, if you are reading this, do you remember this day?) came with me one summer evening. We went to a local park by my parents' house and did some silly poses.
I'm embarrassed to show my work from way back then, but I scanned my capture of Ashley from that day: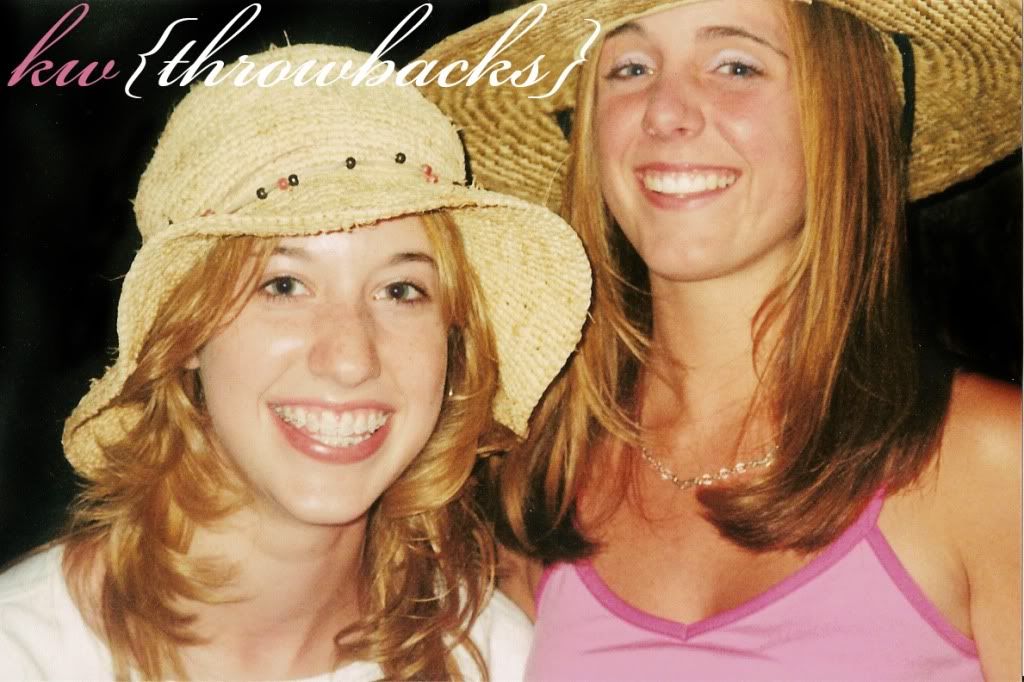 I know I was terrible. But Ashley supported my silly idea back when we were just kids. And I know she will support all of Ryan's dreams through their years together, because that's the kind of person she is, a dreamer who envisions what can be.
Ashley moved on from being my photography model. It was understandably a one-time thing! She went off to college, graduated, and started working. She met Ryan there. It would be her last first date.
I knew I would soon be saying goodbye to "single girl Ash" after I first met Ryan myself. He was it for her. We all felt it. We all knew.
He is just such a nice guy, so genuine, a perfect gentleman, and funny.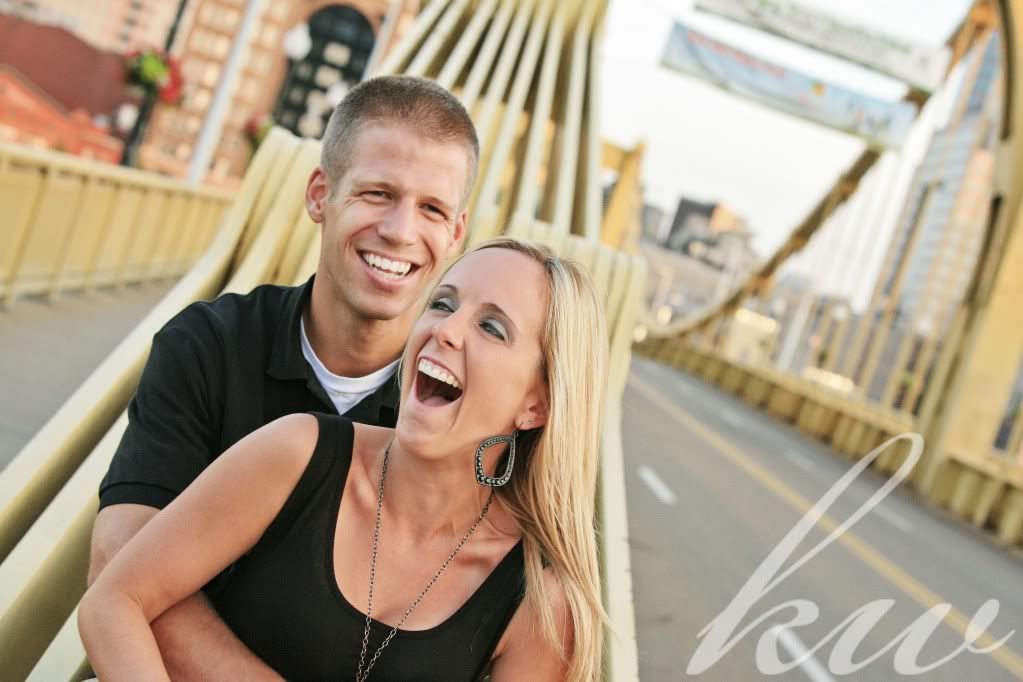 Over time, they got together.
They got serious.
He got a house.
She got a guinea pig.
They got a dog.
Then…he got a ring.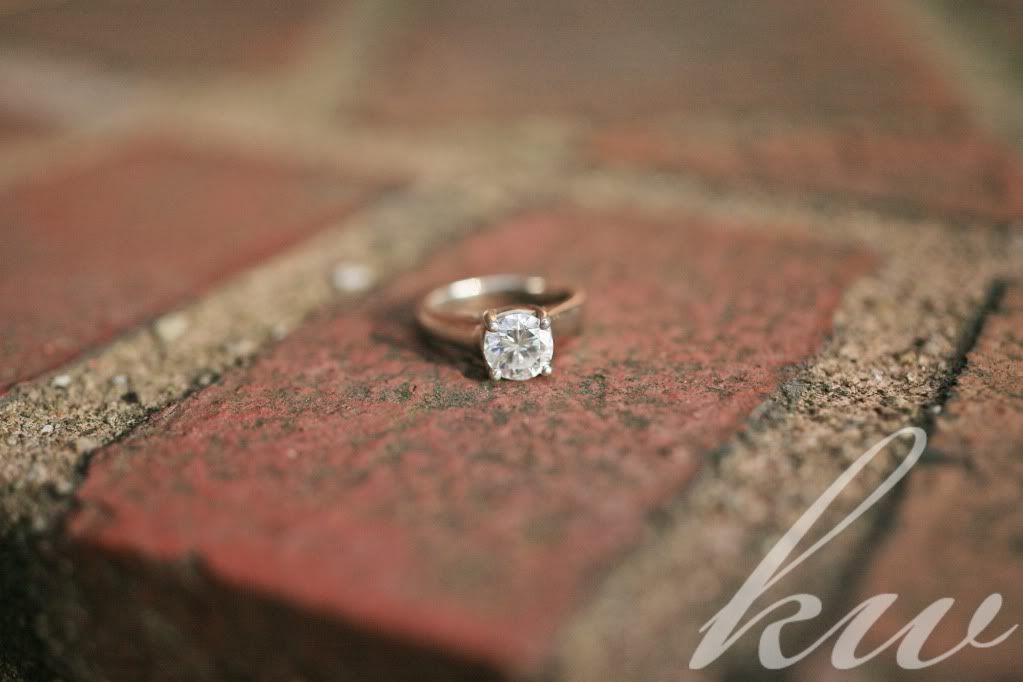 He got down on one knee in their kitchen.
She got to say yes.
They got engaged.
And in that moment, they both got everything they ever wanted.
Two weeks ago, we started out at their home and traveled to Pittsburgh for some engagement photos. As we wound into town through Oakland, Ashley was reminiscing in the car. She stopped her story about some funny/wild antics at one point and said to both Ryan and I, a little sheepishly, "I'm SO different than I was back then. It's like I'm not even the same person. I've changed so much."
In the backseat, I looked out the window and thought about that statement. I've always loved her for who she is. I absolutely adore the woman that she's become. That little girl grew up, her experiences shaped her, and she fell in love with a super great guy.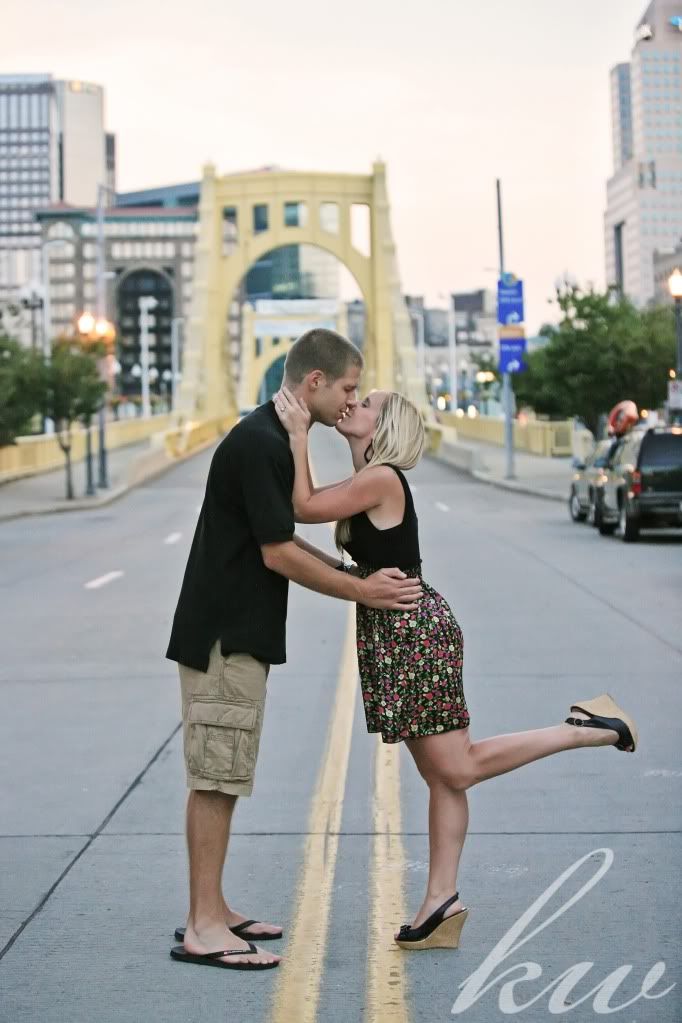 You two are perfect for each other! 🙂 I am so overjoyed that you found each other! Can't wait until the I Do's!
---