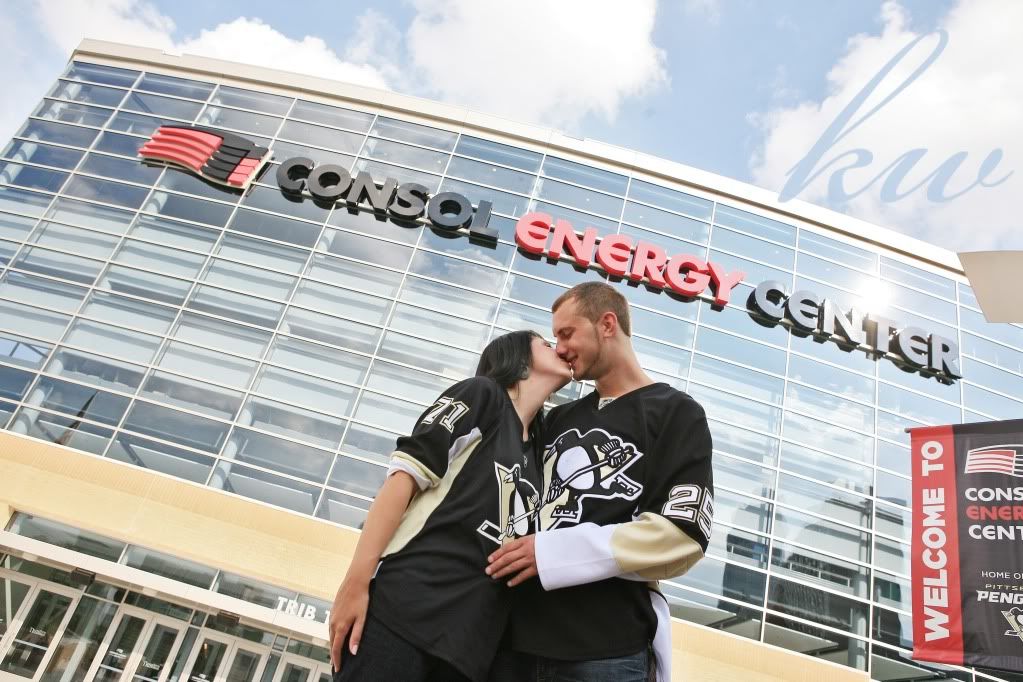 On a hot, hot summer day, I ventured to downtown Pittsburgh with Erica and Nick. It was the open house at the new Consol Energy Center in Pittsburgh, home of the Pittsburgh Penguins, so we hoped to get a few shots with it in the background. It proved to be a little challenge, as the building is super new and signage is limited to, well, you can see it up there, about a hundred feet in the air!
We did a few different combinations, with at one point, Nick and Erica jumping off a concrete bench to get them closer.
They are hugely dedicated Pittsburgh Penguin fans, sporting long sleeve black jerseys on a day that the temperature pushed ninety-five degrees. 🙂 The theme of their engagement session was "A Tour of Pittsburgh" and we wanted to go to spots that were special to them and their relationship. They have a ton of little surprises planned for their May wedding next year to represent that, but I won't give any of them away here in case their guests are reading!
Erica and Nick both were attending my old grad school alma mater, RMU, right outside of Pittsburgh when they met and started dating. But, they didn't meet at school like I had previously thought. No, Nick told me that they met in a "dive bar" (his words, not mine) near campus and jokingly suggested we should stop there for a few photos.
We headed up to the university, winding our way from Mellon Arena through beautiful Sewickley and drove onto campus. Erica and I have some fond memories of RMU, where we did, in fact, meet. (We met on campus, not at the aforementioned dive bar, although I'm pretty sure we celebrated our last day of class once at Primanti's up there!) I really bonded with Erica during our teaching boot camp we went through a couple years ago, so I was so thrilled when she asked me to photograph her engagement and wedding. It is an honor.
And big shout out to my fellow teaching boot-camp survivor, Liz, if she's reading this! 🙂
I got to know what a sweet person Erica is while we were in an intense situation and she always, always stayed sweet, polite, realistic, funny, and nice, even under extreme pressure. That's why she's a great teacher now. Those qualities are why I know that she is going to be an amazing wife and life partner for Nick.
So not only is she super sweet and nice, she could also diagram this sentence for me if I asked her to! 🙂
Nick is a super funny guy that put up with a lot on a hot sunny day to get these images for Erica, so thanks so much, Nick! I'm pretty sure his favorite part was our fun at Consol and the old Mellon Arena.
As the sun started to set, we headed to Pittsburgh's Riverwalk and got a little bit refreshed in the fountain. The cool water felt amazing on such a hot day to all of us, so after capturing this last image, we packed up the car and called it a night before the sun dipped too low in the sky.
Congrats to both of you on your engagement! I can't wait until your big "I Do's" in May! 🙂
---

Once upon a time, I was a high school teacher. I don't know if many of my clients know that, but I loved teaching.
Something else you may not know about me…I met my husband in fifth grade homeroom!
So therefore, I have always wanted to do a photo shoot in a school.


Enter Sarah and Chris. They met in high school. They got engaged years later. And they have all the right connections, so we traveled back to their old high school near Tampa for some engagement photos.

The school staff was great about letting us use the place, and the shots are some of my favorite to date.
We incorporated the classroom where they met and their love of soccer from their high school days, as well as using an abandoned bus and a ton of other great stuff.


Sarah's feeling a little under the weather right now, so if you leave some comments for her, I'm sure it will cheer her up! 🙂
When I was a teacher, we certainly didn't let the students do things like this! 🙂

This photo shoot was a once in a lifetime opportunity, so thank you two for the incredible chance to make this shoot happen. You two are an incredibly comfortable and relaxed couple; I had so much fun working with you and I love all your unique ideas for your big day! 🙂

Why not make your engagement photos special and do them where you met your future spouse, be it school, a bar, the park, at a party, work, wherever! Tell the story of how you met with your photographs!
---