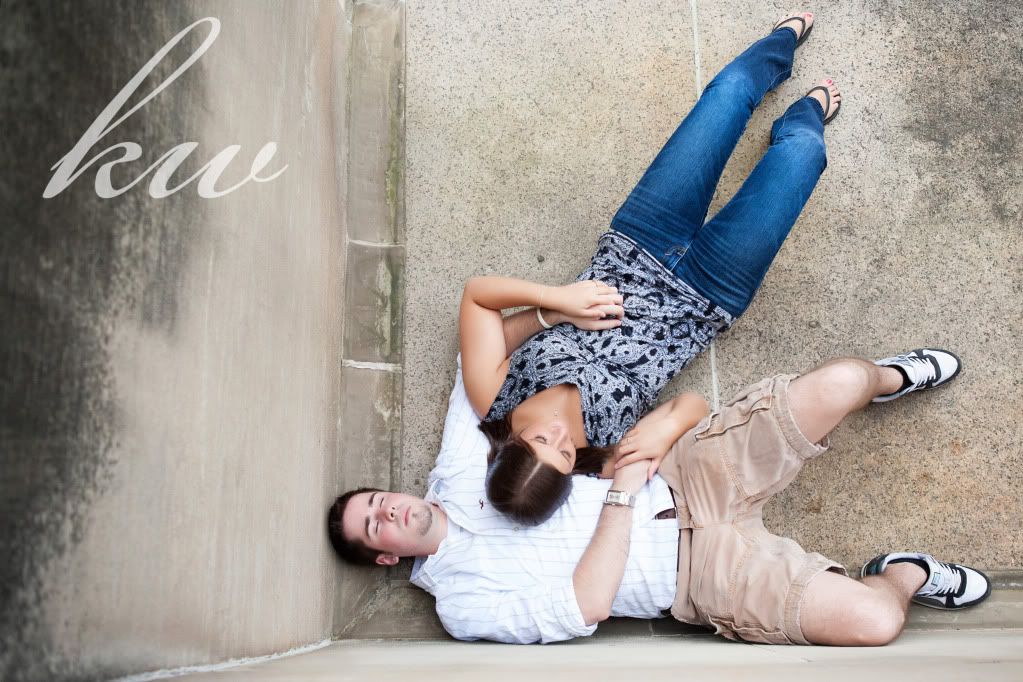 Years ago, I met Kelsey at work. I was SO delighted to hear that she was engaged to be married! We both worked teaching summer school in Pittsburgh as young brand new teachers and education students. It was challenging and fun and crazy at times.
Just the other day, I was walking through a park on my lunch break, and saw a crowd of day campers running all over, teachers shouting instructions, and for a second, I turned to my husband and said "I miss that." He looked at me in disbelief, as the kids were quite rowdy and I haven't taught in more than three years. "I really do miss it," I repeated, and I meant it.
Of course, I LOVE photography and being my own boss. 🙂
One of the things I missed about teaching is meeting really great people like Kelsey and forming friendships with young women who are out to change the world one student at a time. Kelsey and Kevin met at Penn State University, where Kevin studied communication while Kelsey was in elementary education.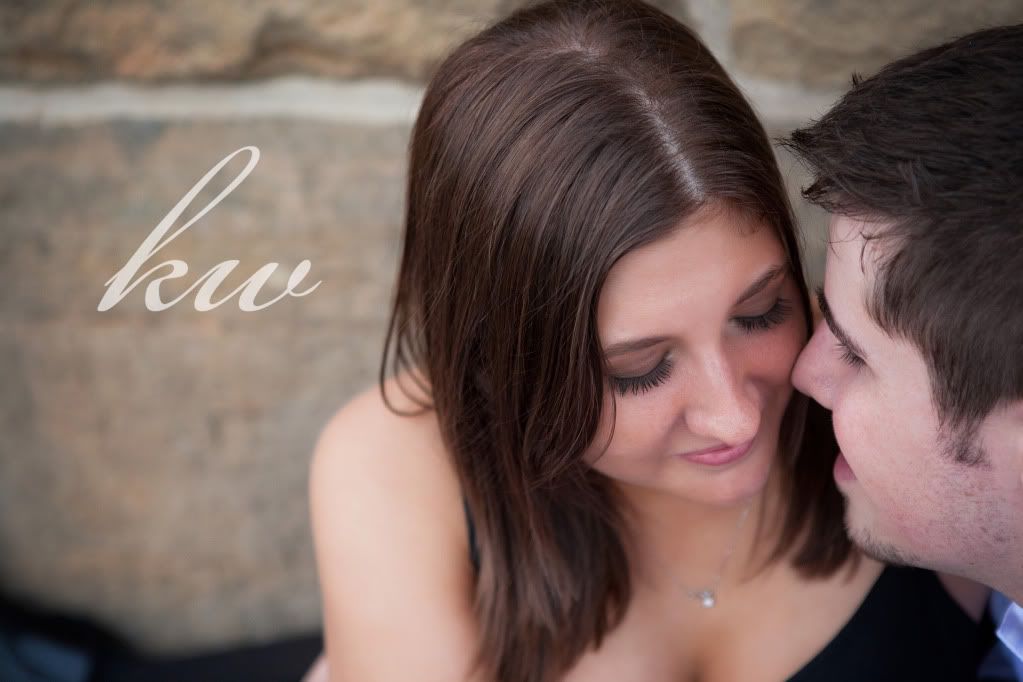 Their love for Penn State runs deep-they're hoping to get married at the stadium next summer!
I asked Kelsey and Kevin how long they had been together before getting engaged, and their answer was jokingly "This time? Or counting all the times?" I love that their relationship is so normal. They met when they were just freshmen in college, and of course had some on-again, off-again moments at that young age. But then a few years ago, they got serious.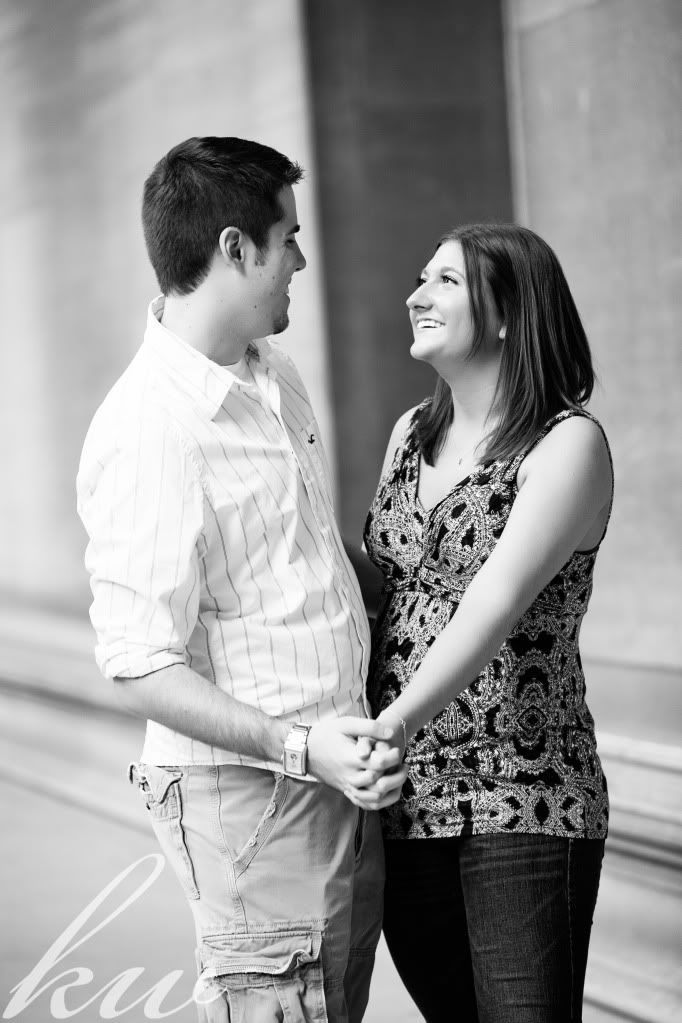 They moved to D.C. for work and grew closer. Last Thanksgiving, Kevin bought a ring. Kelsey was on a field trip with her students, and they viewed the Hope Diamond at a museum. She sent Kevin a photo, teasing about the diamond's size.
When she came home that night, Kevin proposed with a diamond of his own, maybe not as large as the Hope Diamond, but every bit as special and precious. I think that makes it their own "hope" diamond, signifying their dreams of the future together.
While we were on the North Shore, a footrace was going on, blocking the typical skyline shots. I thought it might be fun to put Kelsey and Kevin in the middle of the craziness and let everyone race on by as they just paid attention to each other!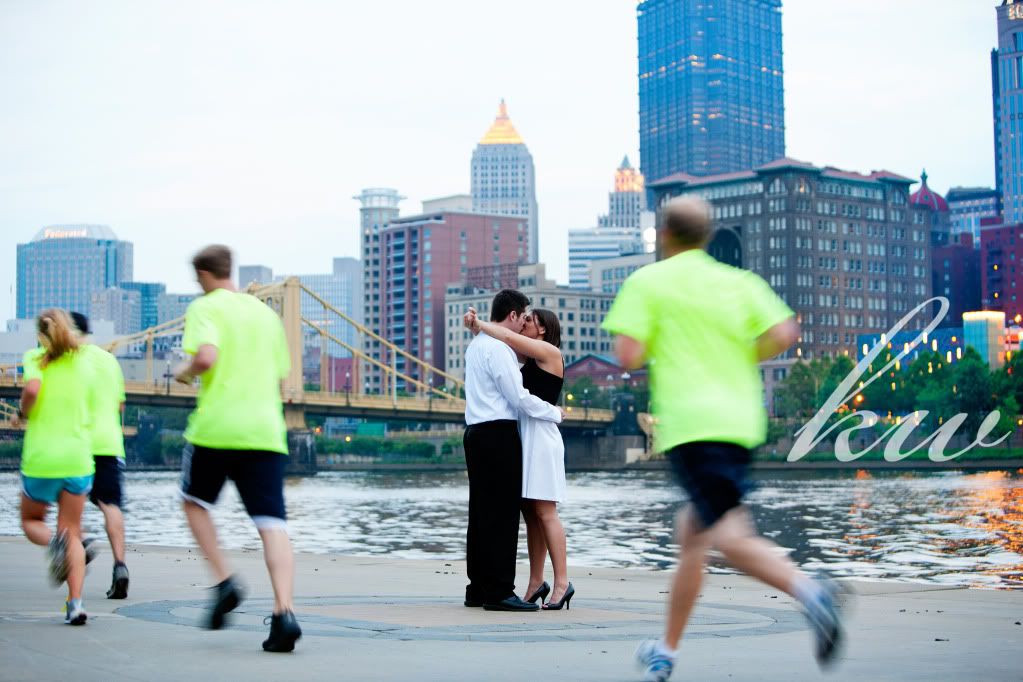 Enjoy your engagement, you two! It is a very exciting time, and I wish you so much happiness!
---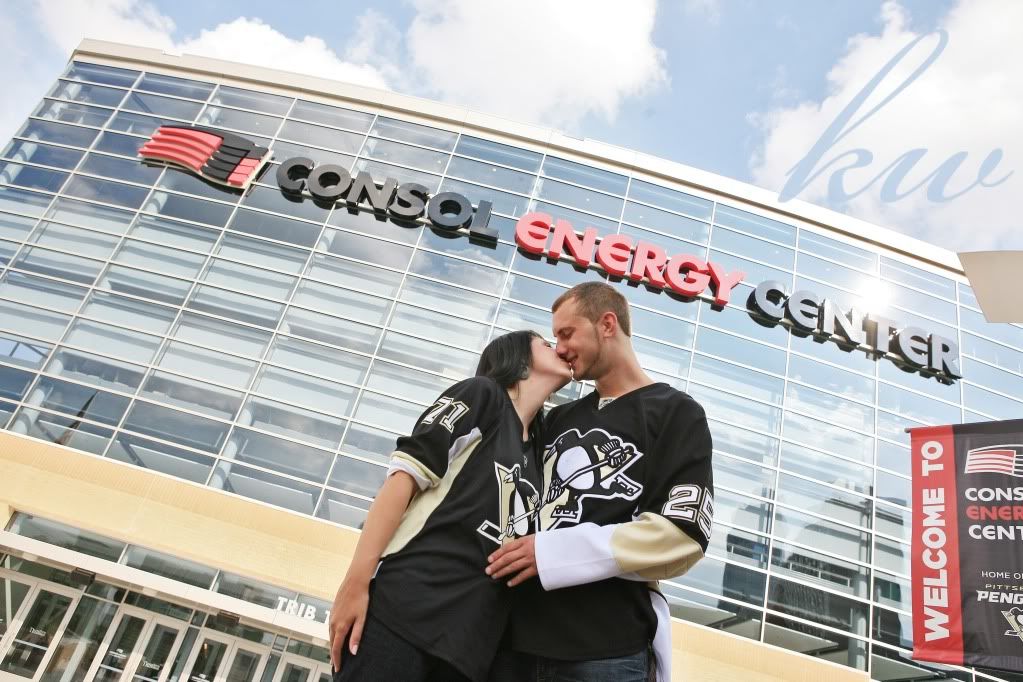 On a hot, hot summer day, I ventured to downtown Pittsburgh with Erica and Nick. It was the open house at the new Consol Energy Center in Pittsburgh, home of the Pittsburgh Penguins, so we hoped to get a few shots with it in the background. It proved to be a little challenge, as the building is super new and signage is limited to, well, you can see it up there, about a hundred feet in the air!
We did a few different combinations, with at one point, Nick and Erica jumping off a concrete bench to get them closer.
They are hugely dedicated Pittsburgh Penguin fans, sporting long sleeve black jerseys on a day that the temperature pushed ninety-five degrees. 🙂 The theme of their engagement session was "A Tour of Pittsburgh" and we wanted to go to spots that were special to them and their relationship. They have a ton of little surprises planned for their May wedding next year to represent that, but I won't give any of them away here in case their guests are reading!
Erica and Nick both were attending my old grad school alma mater, RMU, right outside of Pittsburgh when they met and started dating. But, they didn't meet at school like I had previously thought. No, Nick told me that they met in a "dive bar" (his words, not mine) near campus and jokingly suggested we should stop there for a few photos.
We headed up to the university, winding our way from Mellon Arena through beautiful Sewickley and drove onto campus. Erica and I have some fond memories of RMU, where we did, in fact, meet. (We met on campus, not at the aforementioned dive bar, although I'm pretty sure we celebrated our last day of class once at Primanti's up there!) I really bonded with Erica during our teaching boot camp we went through a couple years ago, so I was so thrilled when she asked me to photograph her engagement and wedding. It is an honor.
And big shout out to my fellow teaching boot-camp survivor, Liz, if she's reading this! 🙂
I got to know what a sweet person Erica is while we were in an intense situation and she always, always stayed sweet, polite, realistic, funny, and nice, even under extreme pressure. That's why she's a great teacher now. Those qualities are why I know that she is going to be an amazing wife and life partner for Nick.
So not only is she super sweet and nice, she could also diagram this sentence for me if I asked her to! 🙂
Nick is a super funny guy that put up with a lot on a hot sunny day to get these images for Erica, so thanks so much, Nick! I'm pretty sure his favorite part was our fun at Consol and the old Mellon Arena.
As the sun started to set, we headed to Pittsburgh's Riverwalk and got a little bit refreshed in the fountain. The cool water felt amazing on such a hot day to all of us, so after capturing this last image, we packed up the car and called it a night before the sun dipped too low in the sky.
Congrats to both of you on your engagement! I can't wait until your big "I Do's" in May! 🙂
---