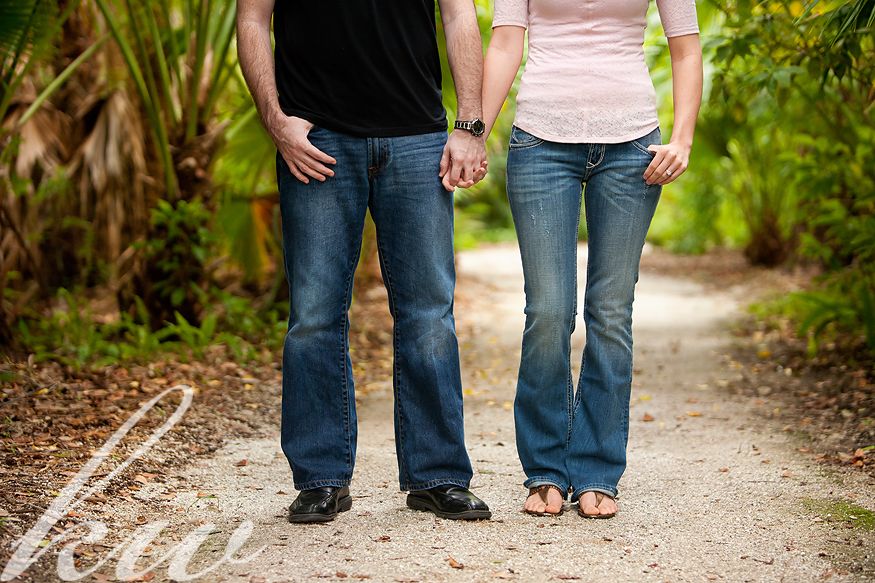 Jennifer and Philip are fast approaching their wedding date, so we needed to get their engagement session in as soon as possible. But then the dreaded flu struck them…so we had to wait two more weeks to do the session.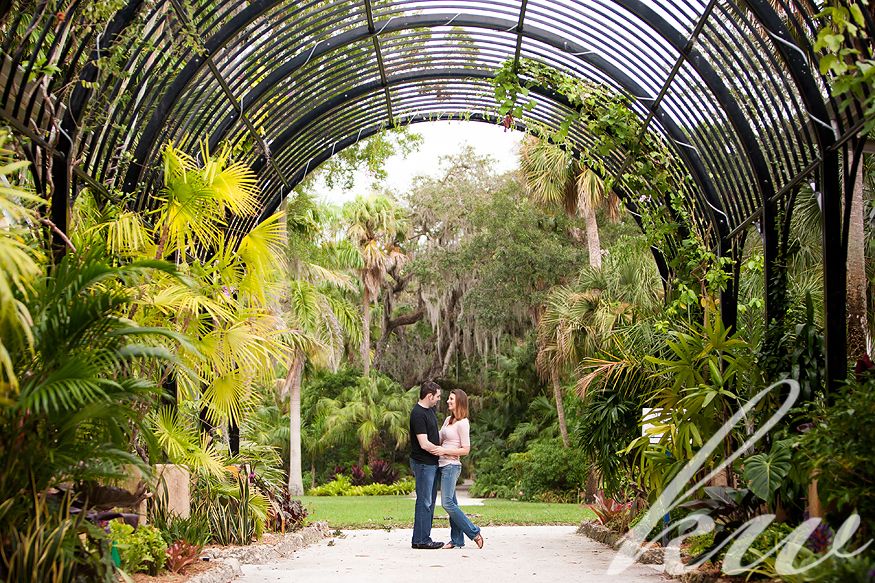 I'm so glad we rescheduled though because the weather was beautiful and, as we neared closing time, we pretty much had the gardens to ourselves for some great portraits.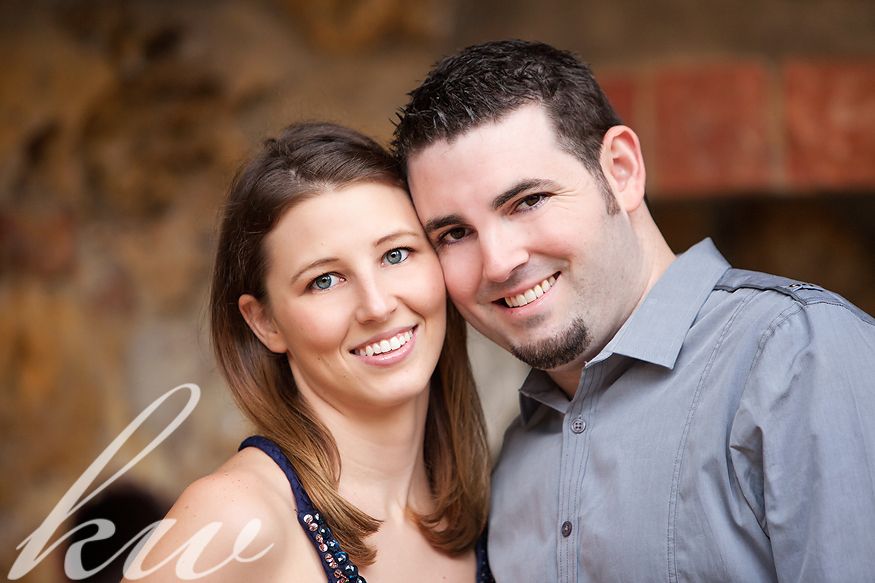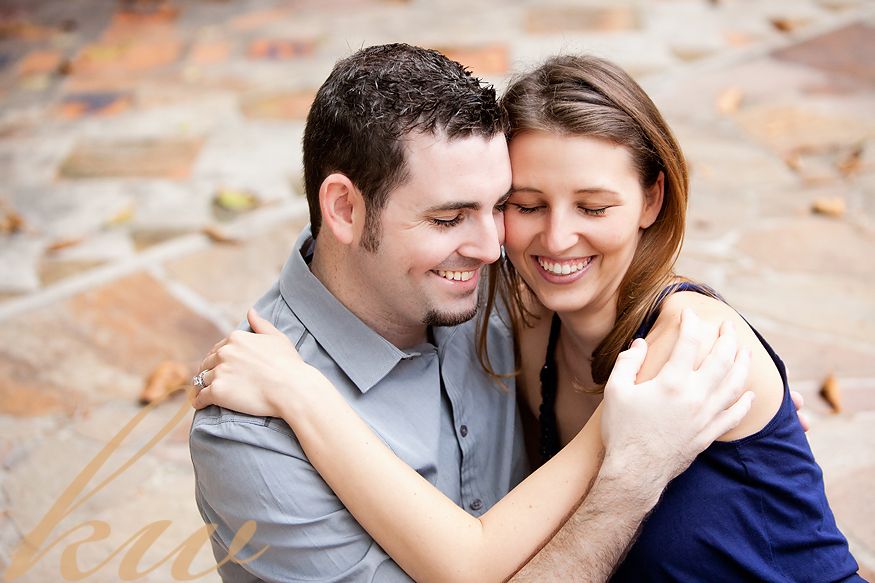 Jennifer and Philip met years ago in a nightclub in Fort Lauderdale and have been together ever since. I was so jealous of Jennifer's figure-she is tall and fit and will be able to pull off any style of wedding dress! 🙂 They're just a great couple to work with, very natural and sweet.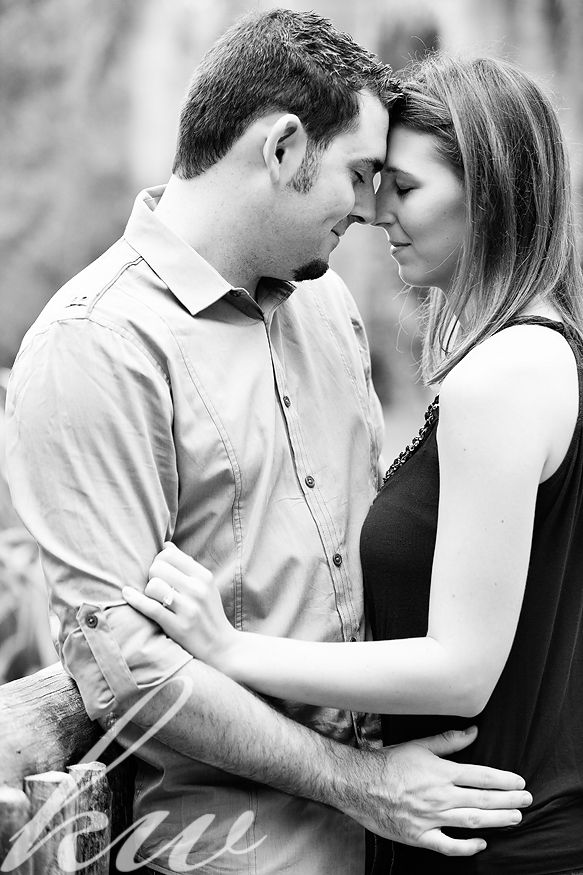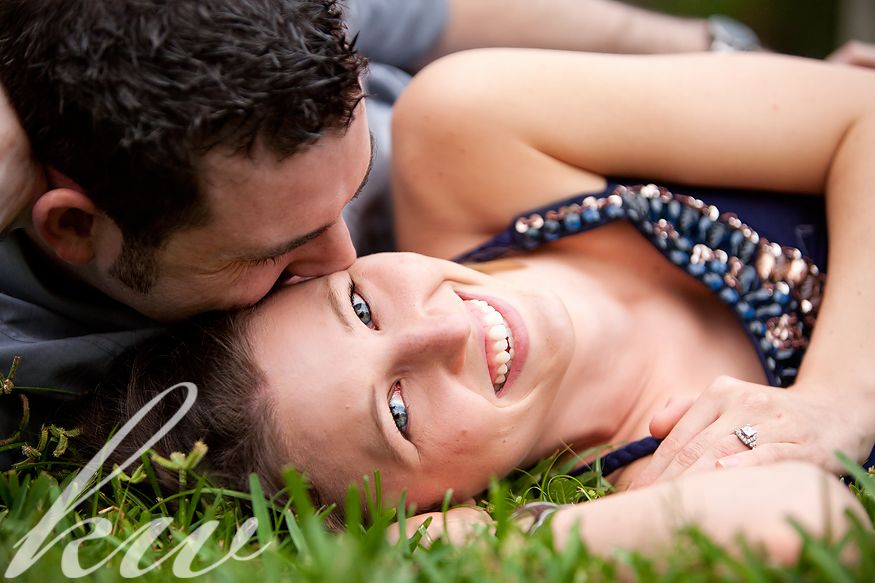 The more I hear about their wedding plans, the more excited I get! A photographer's dream is getting ready, ceremony, portraits, and reception all in one area-no travel means more time for portraits! A winter wedding-the weather won't be too hot-perfect for outdoor images. And lastly, they're doing a first look since the sun sets so early. Can you tell I am excited for this upcoming big day?!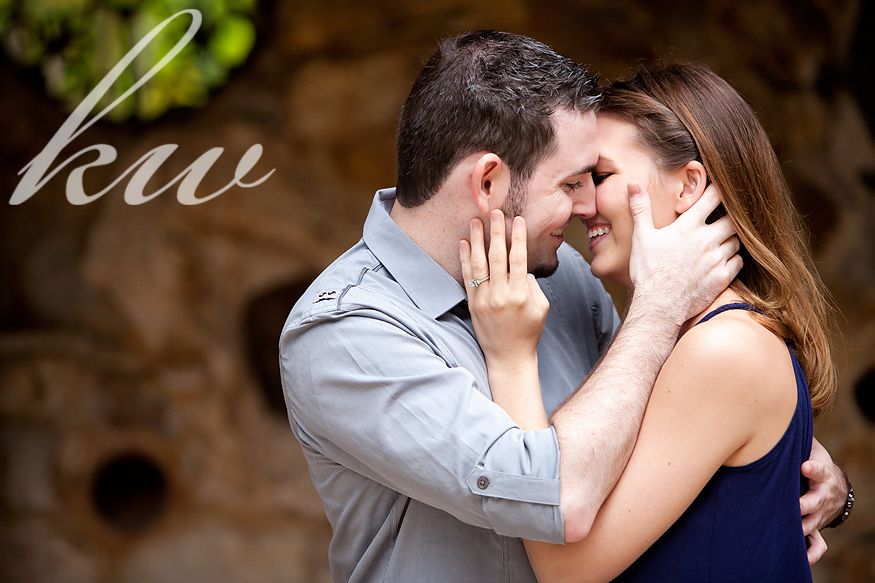 ---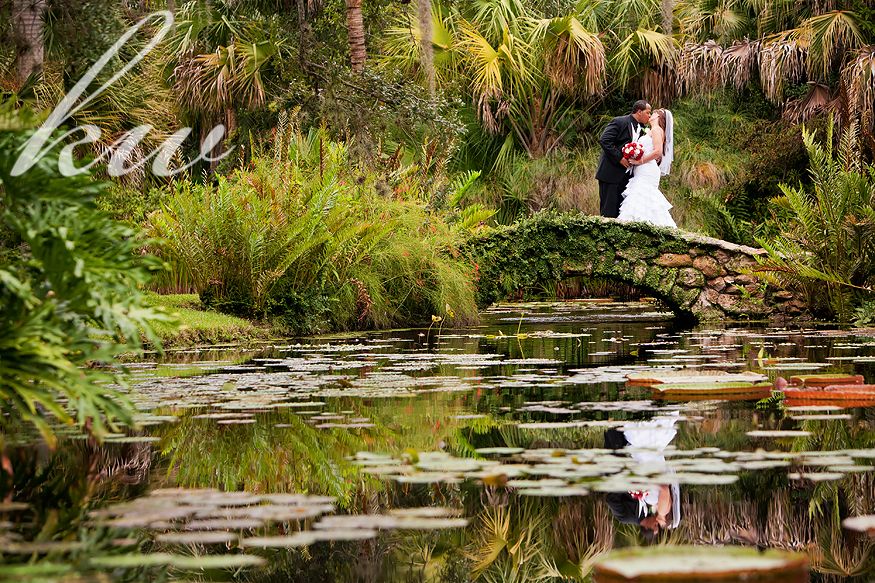 Dawn and Justin live in my neck of the woods and were married last Saturday at the beautiful McKee Garden in Vero Beach. McKee has so many spots for photos-it is easy to see why Dawn and Justin chose this location (and Al the wedding coordinator and the catering manager were SO wonderful there as well!). I only wish we had more time to explore and get more portraits, but the wedding day is often so pressed for time.
Makeup services were performed at Dawn's home by
Michelle Marie, catering was provided by Elizabeth Kennedy Catering, and entertainment was provided by DjQuae. Dawn's gown boutique was Aurora Unique Bridal Boutique in Melbourne, FL.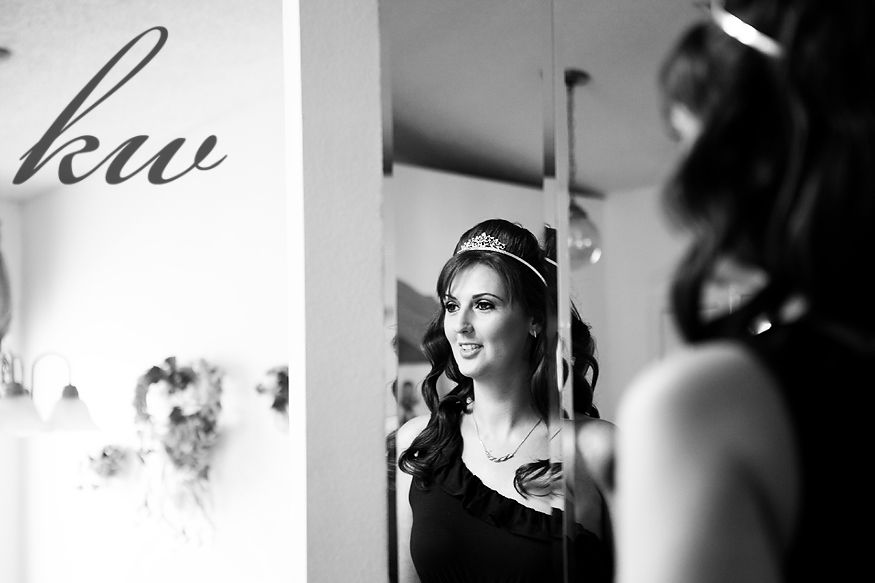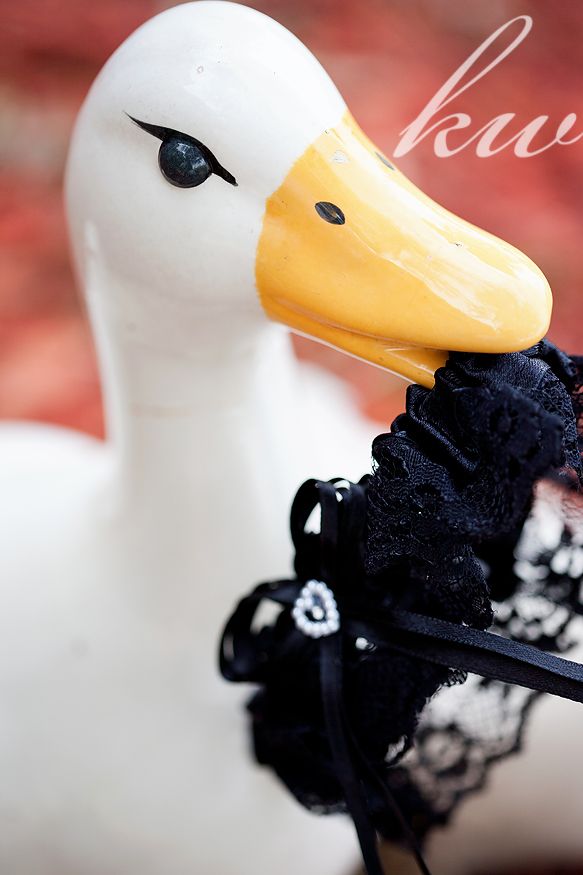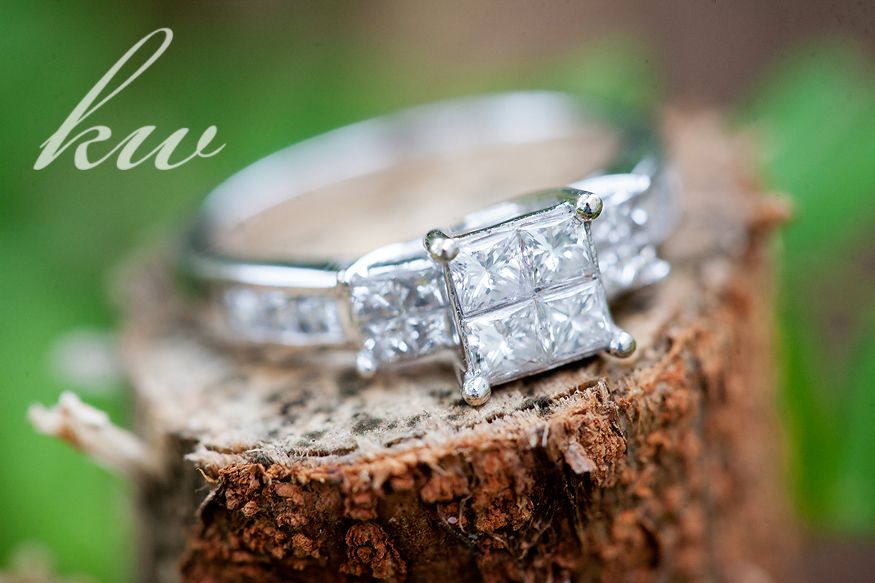 And the names Dawn and Justin seemed to cause a bit of confusion throughout the day…the minister accidentally referred to Dawn as Diane, and the DJ later called Justin by the name of Jason! But rest assured, Dawn and Justin are the correct names. 🙂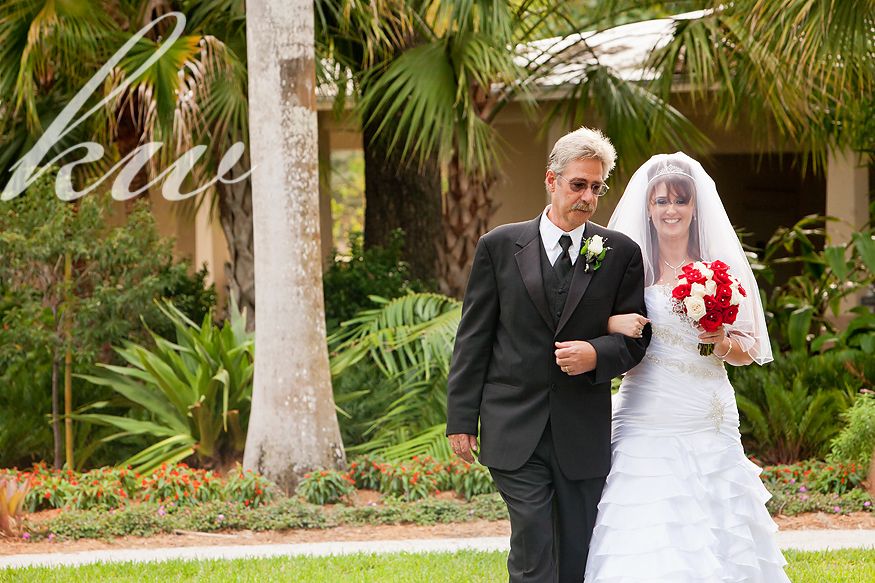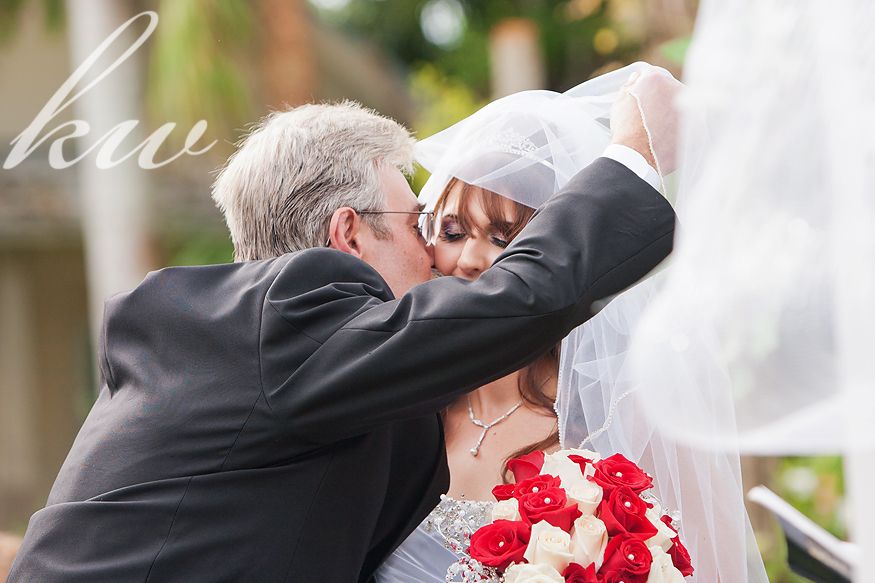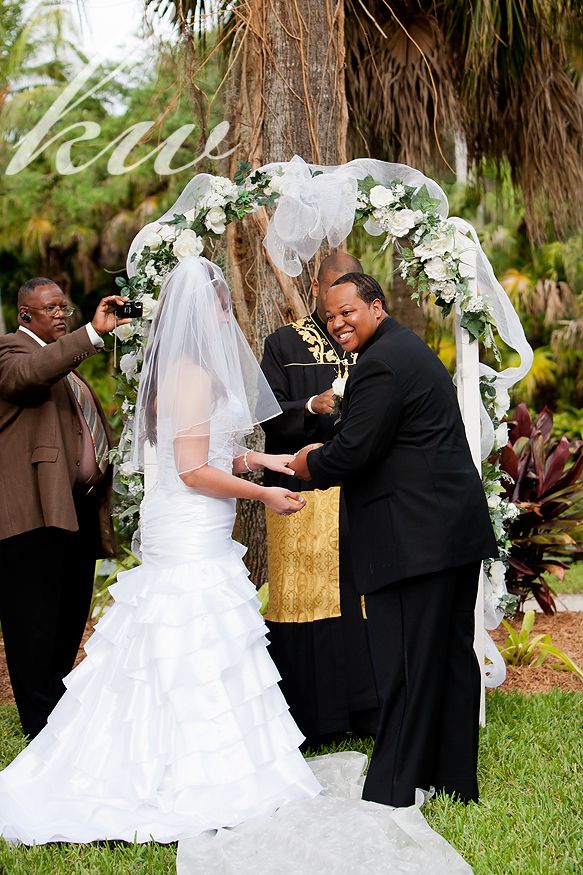 There was laughter during the ceremony!
They chose black, white, gray/silver, and red as their wedding day colors.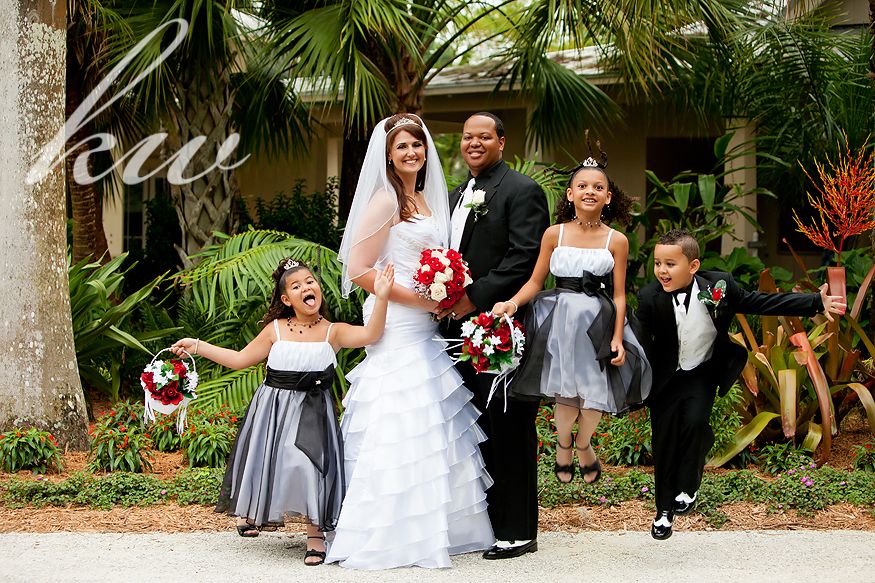 Dawn's three children played the part of flowergirls and ringbearer.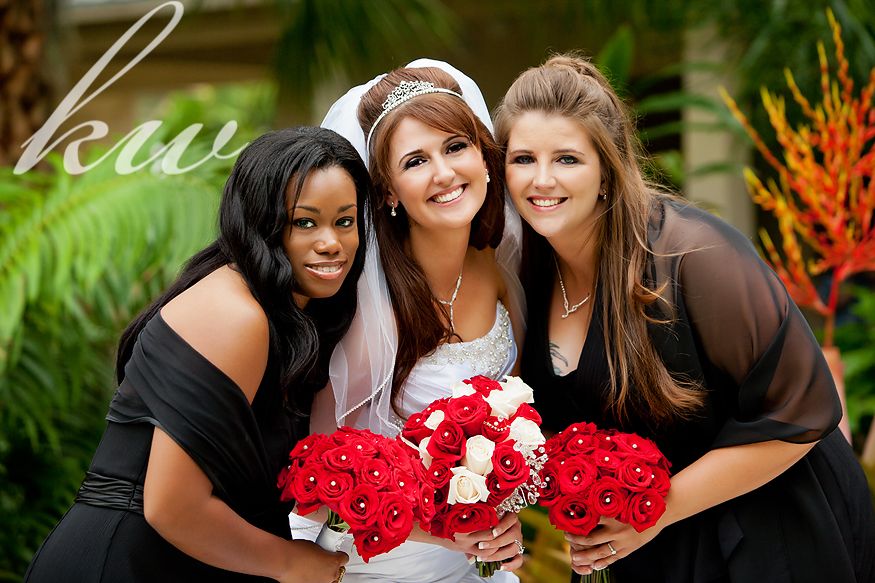 Justin's groomsmen wore white tuxedos, and he wore the classic black tuxedo and white vest.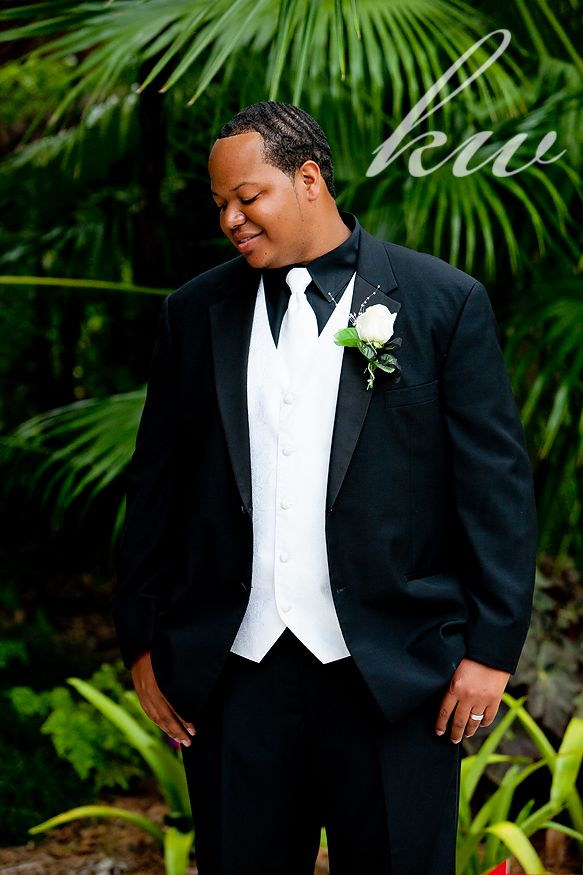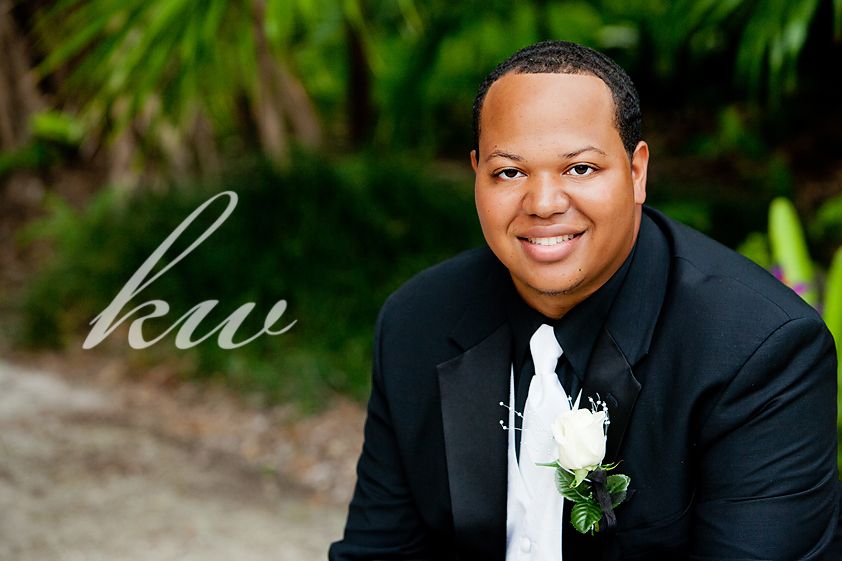 Dawn actually is originally from New Jersey, and she even reminded me of my other New Jersey bride,Melissa. Do you see the resemblance?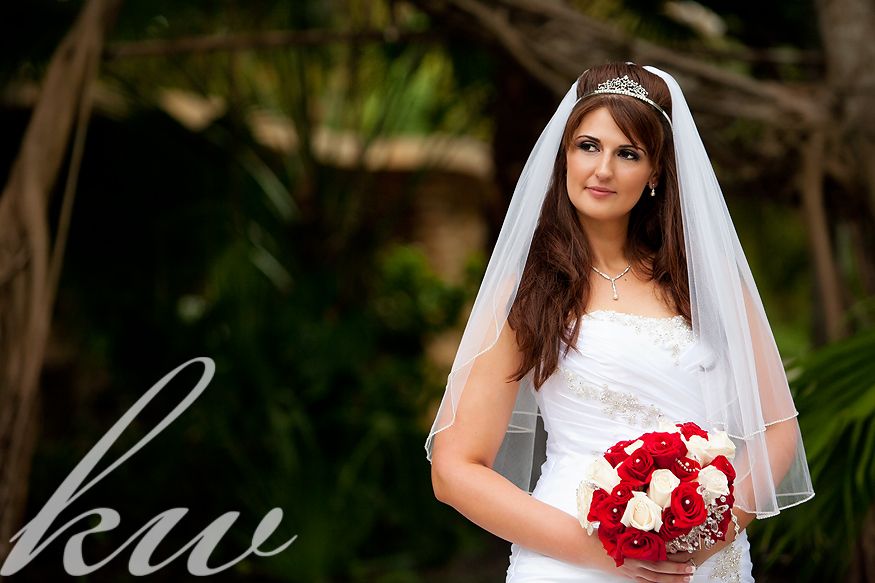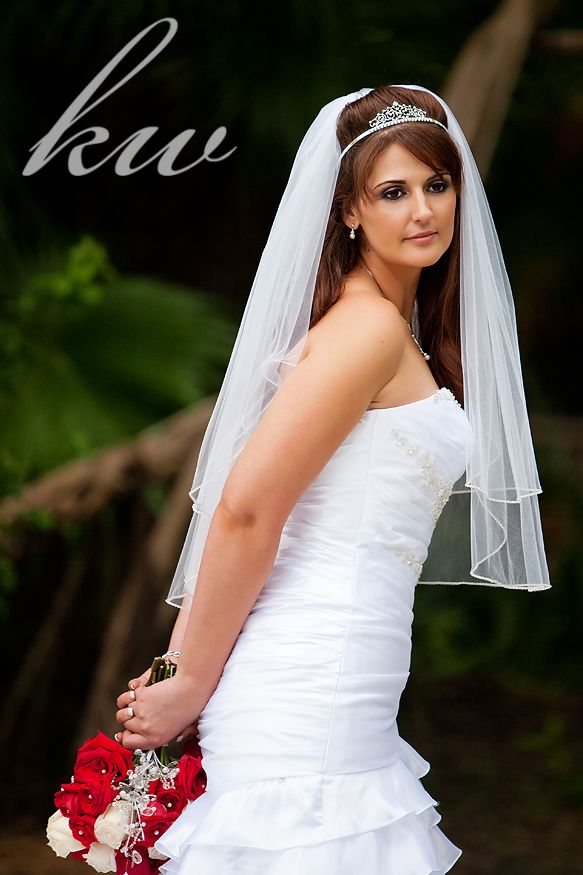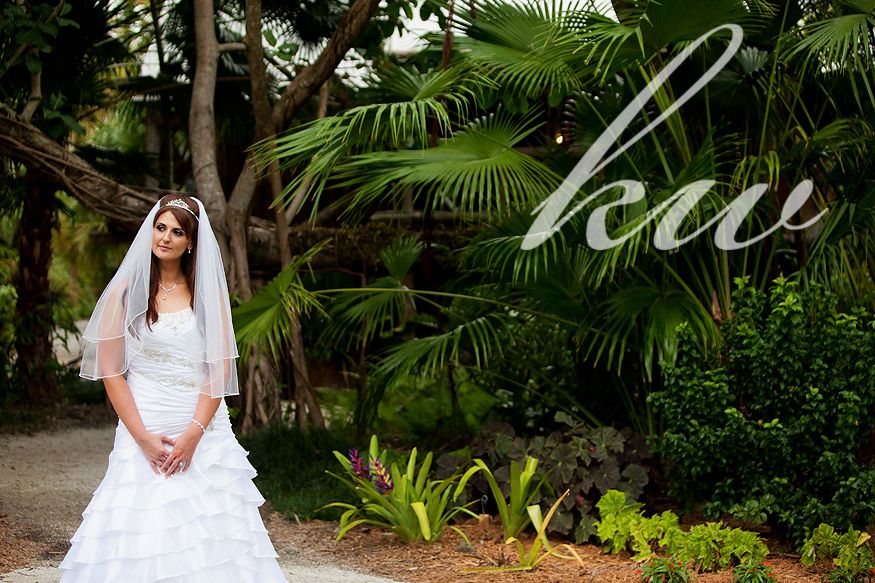 I love the light in her eyes in this one! Dawn was willing to lay down in the grass for me–hard to find a bride that is willing to do anything to get the shot!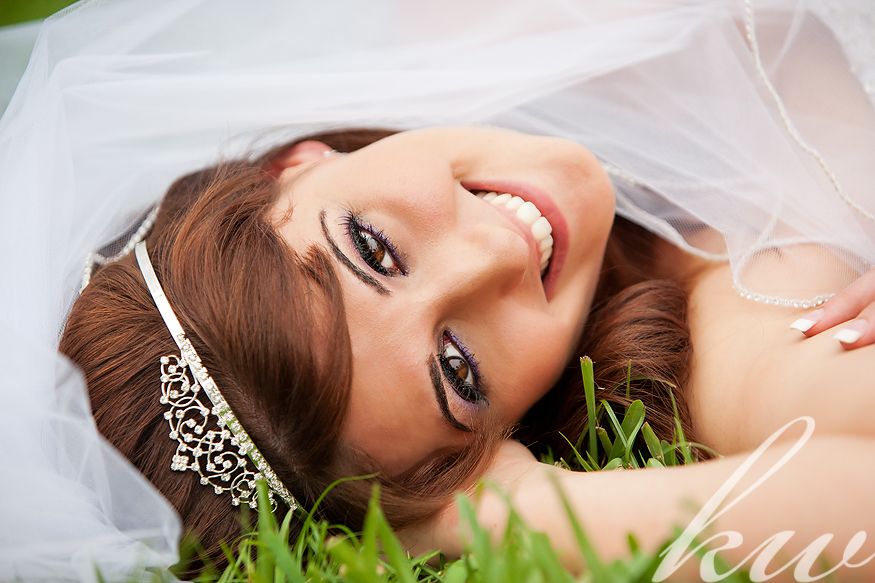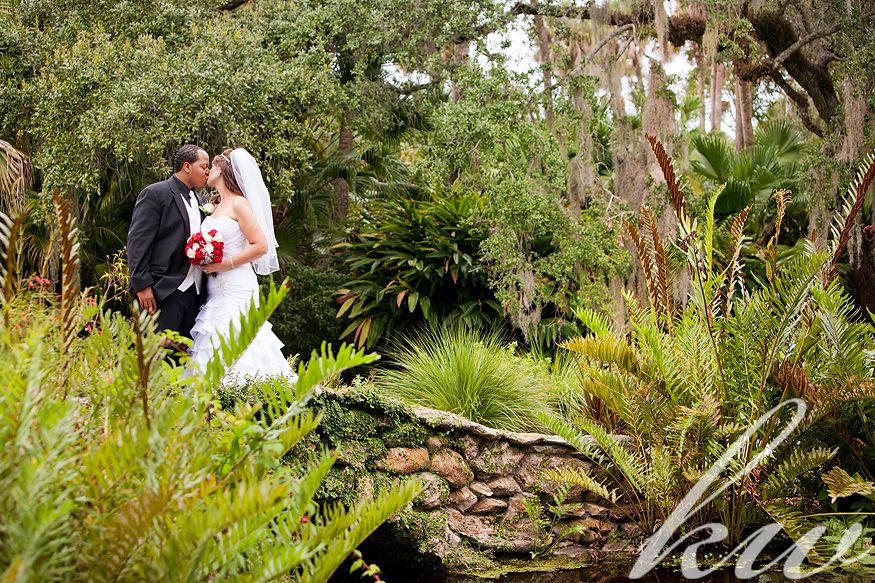 After creating portraits around the garden with the couple, they were introduced into their reception at the Education Building on-property, where dinner was served inside, and later, their candy buffet was unveiled. Dancing took place on the patio outside, and I heard a little rumor that there was a fun after party event taking place, carrying the celebration well into the night!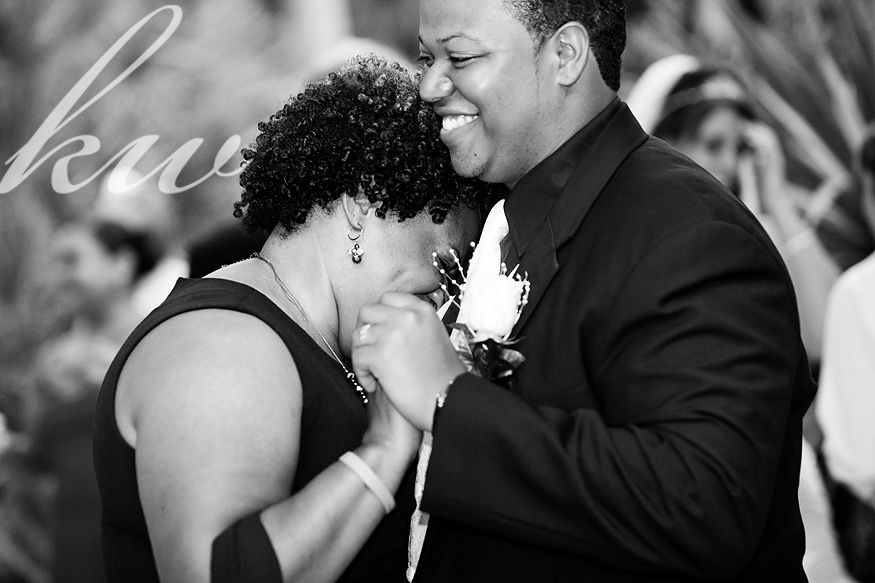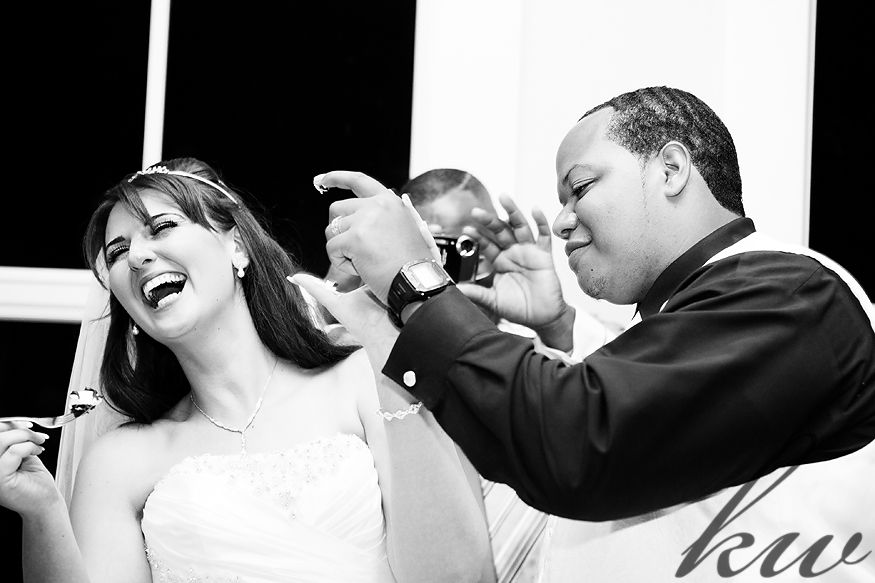 I hope you enjoyed your well-deserved honeymoon cruise, Dawn and Justin! It was great to work with such a laid-back couple–thank you SO much for having me as your photographer!
---