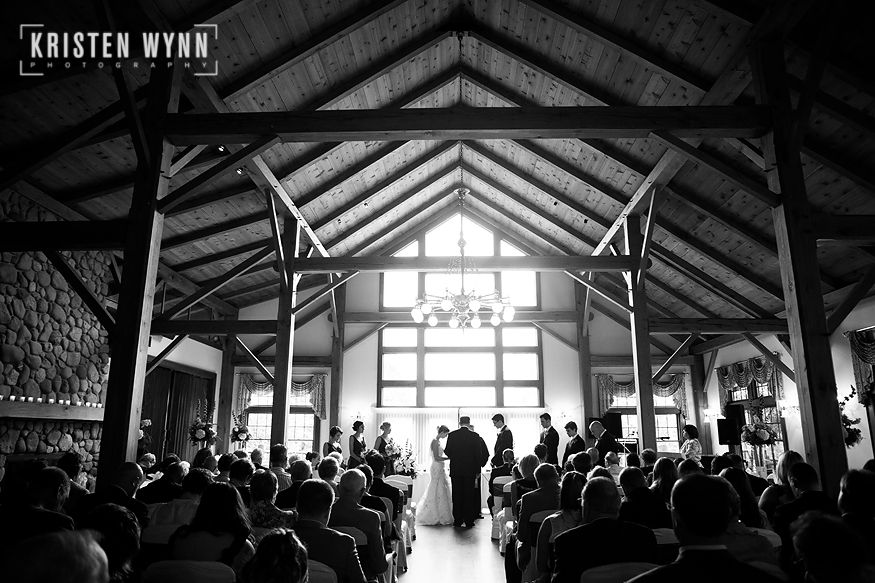 These high-school sweethearts share a love of nature and animals, and their rustic wedding at the Timberhouse carried out that theme perfectly from the exposed beams, the grounds surrounding the venue, the unique guestbook that was an evergreen tree, and even the table names, which were vintage prints of animals, each beginning with a different letter. This venue is gorgeous (you may remember it from Dana and Brad's big day last spring) and has warm lighting at night, making the entire place glow.
I first met Marlee and Jacob last New Year's Eve at the wedding of Jacob's cousin Rachael. I adored working with Rachael and Mark in Orlando, and it was a great coincidence that Marlee and Jacob were marrying in Pittsburgh-their hometown and mine, as Marlee and Jacob now make their home together in Delaware.
This bridal purse was adorable.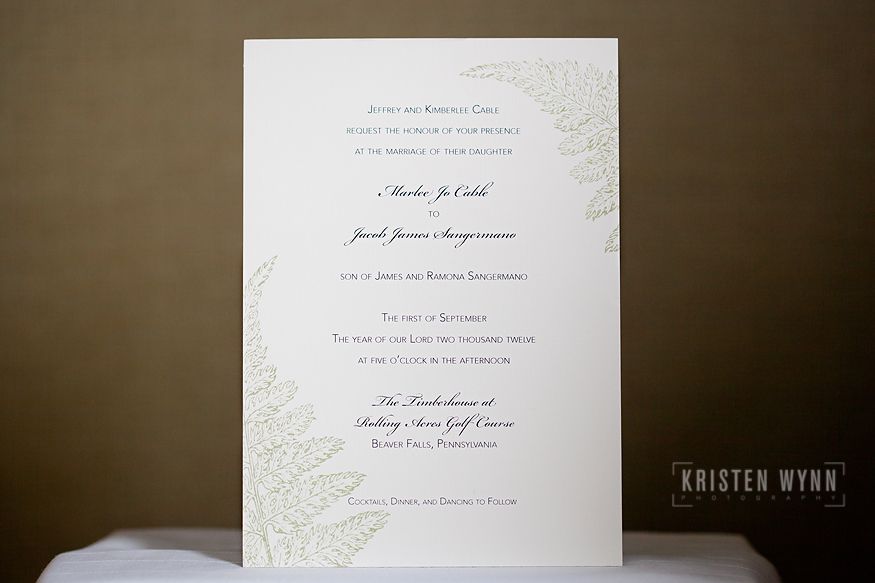 The theme was carried subtly throughout the invitation suite.
As a side note, I was very ill the night I met Marlee and Jacob and I remember thinking "Oh, they won't want me to photograph their wedding-I have no voice and I'm so germy right now–what a great impression I'm made."
But I was delighted when they did indeed contact me and everything came together perfectly! I couldn't ask for a sweeter, more fun couple!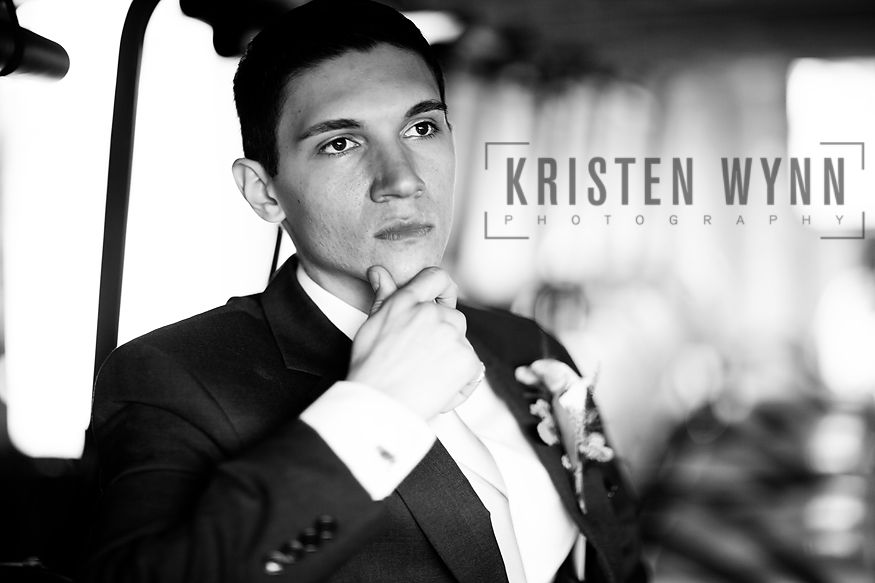 Marlee was gorgeous and Jacob was a handsome, thoughtful groom.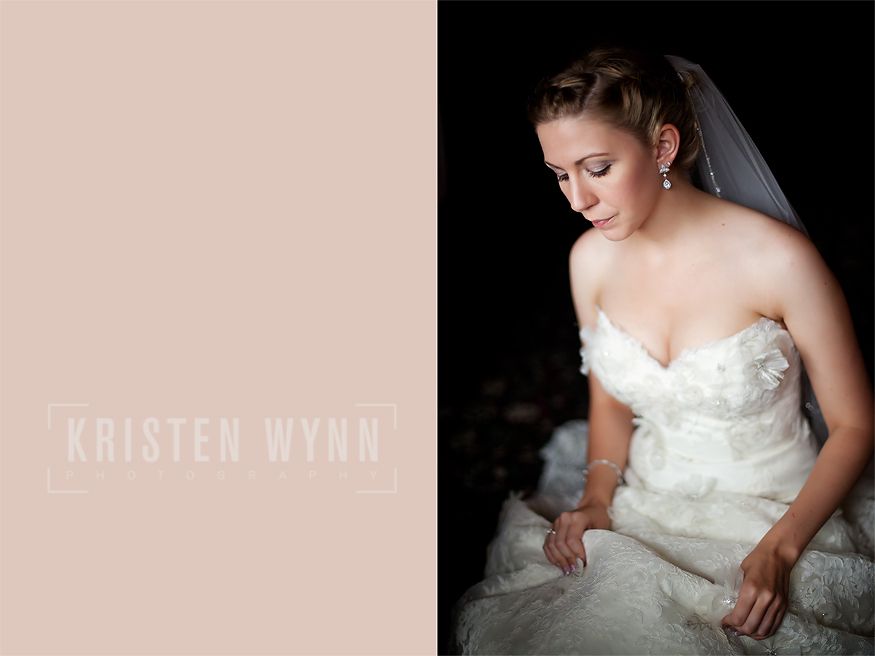 This room where Marlee dressed actually was part of the reception room and contained the delicious cookie table and the bar. But the carpet was dark and the windows let the light fall directly on Marlee when she sat down for a few portraits, really isolating the subject. I think Marlee's sitting on a little tree stump here, actually!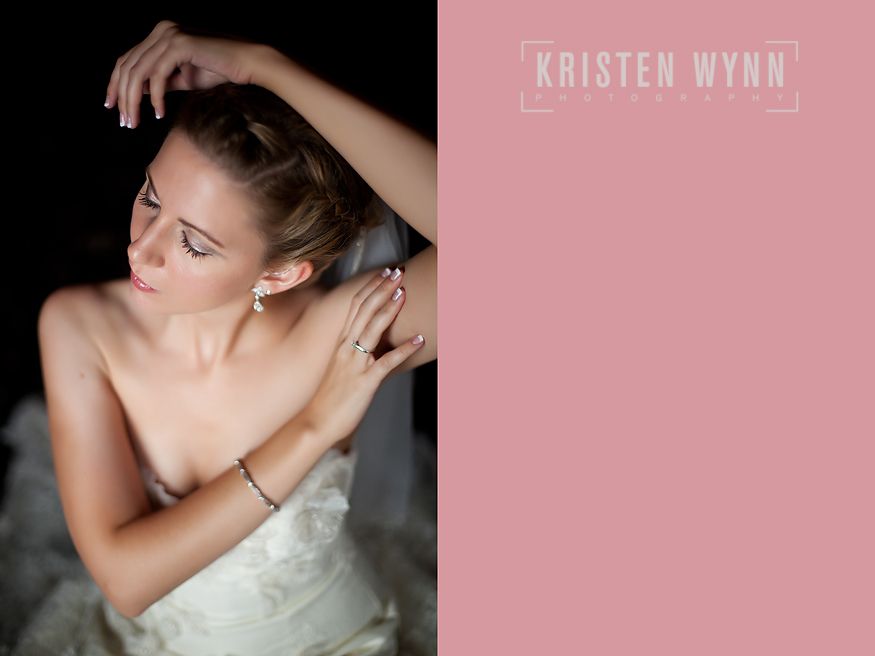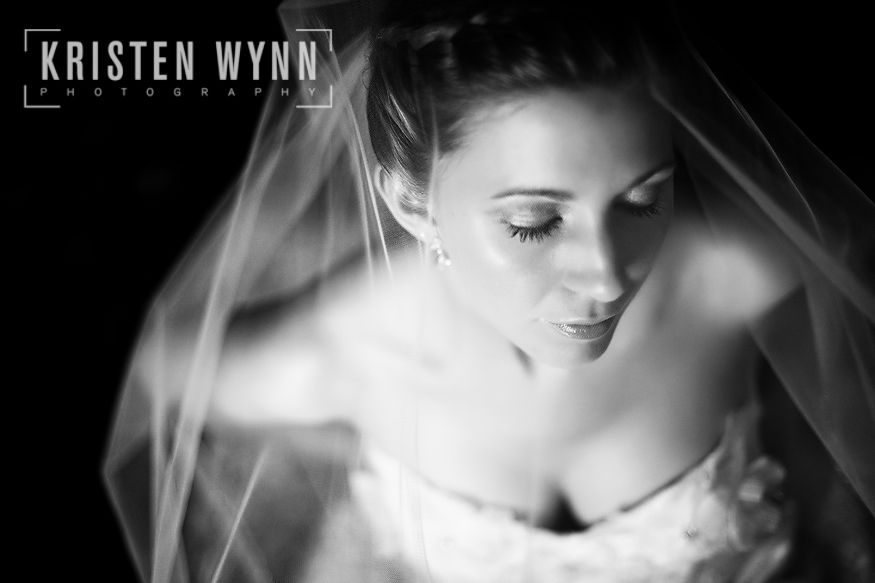 When the rain threatened the outdoor ceremony, Marlee didn't want to make the final call on moving indoors alone—she instead wanted to make sure Jacob's opinion was included too. I found that mutual decision-making and communication to be wonderful–it really said a lot about them as a couple. And the indoor ceremony was beautiful, with the weather clearing up perfectly for outdoor portraits.
I chose to blog a few more candid moments than I normally do, including this laugh during the ring exchange.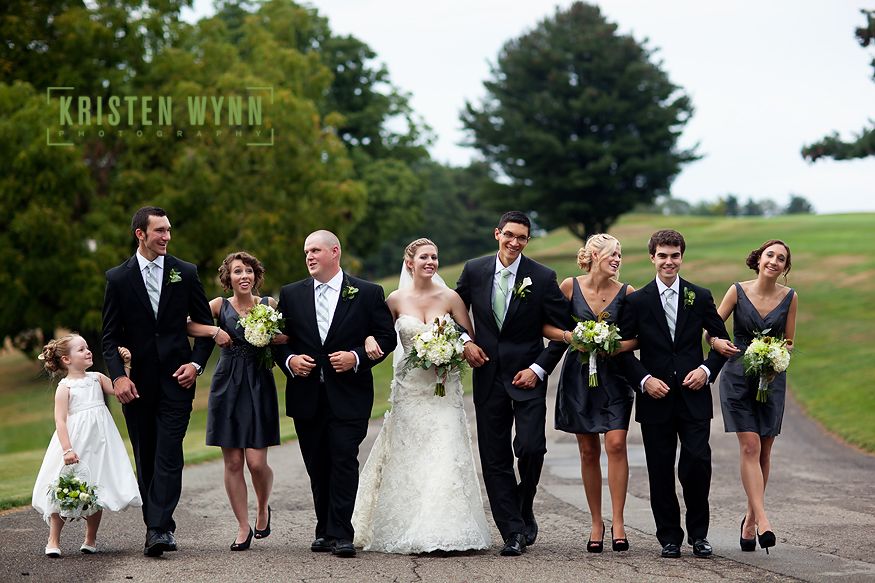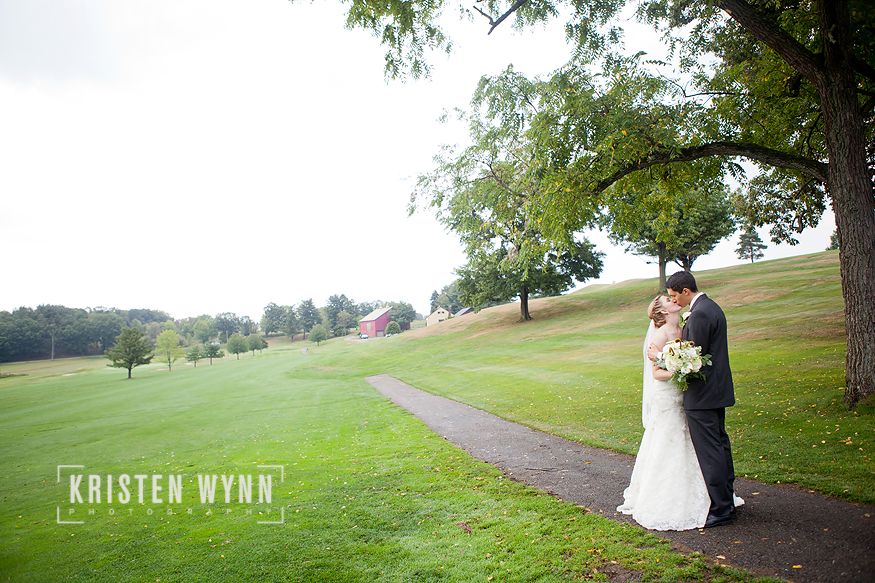 I love the red barn in the background.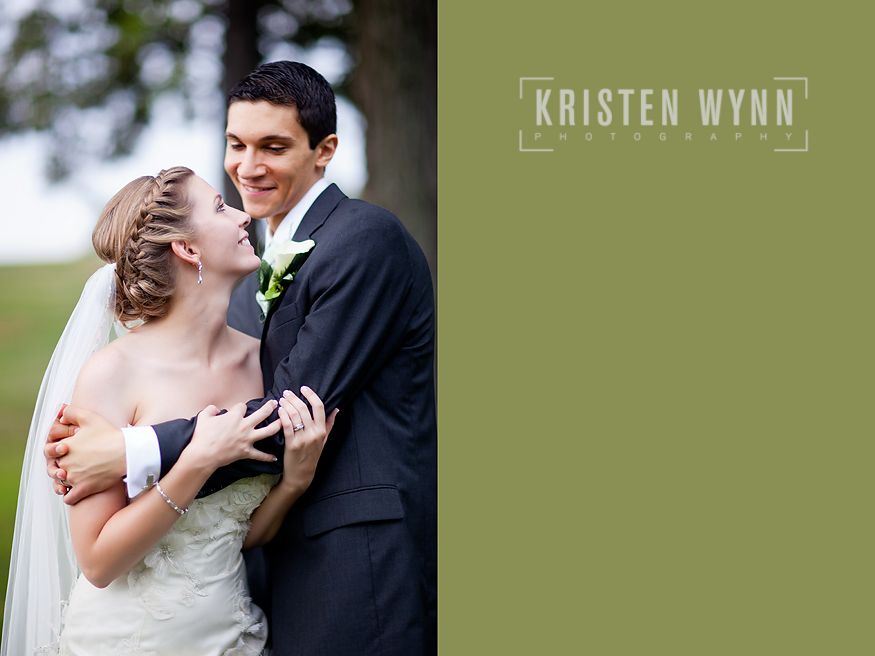 Here are the vendors that made the day possible:
Hair Styling: Unique Choices Salon in Ambridge, Pennsylvania (the groom's family's salon!)
Accommodations: Holiday Inn and Suites in Monaca, Pennsylvania
Ceremony and Reception Venue: The Timberhouse in Beaver Falls, Pennsylvania
Photography: Kristen Wynn Photography of Pittsburgh, Pennsylvania and Palm Bay, Florida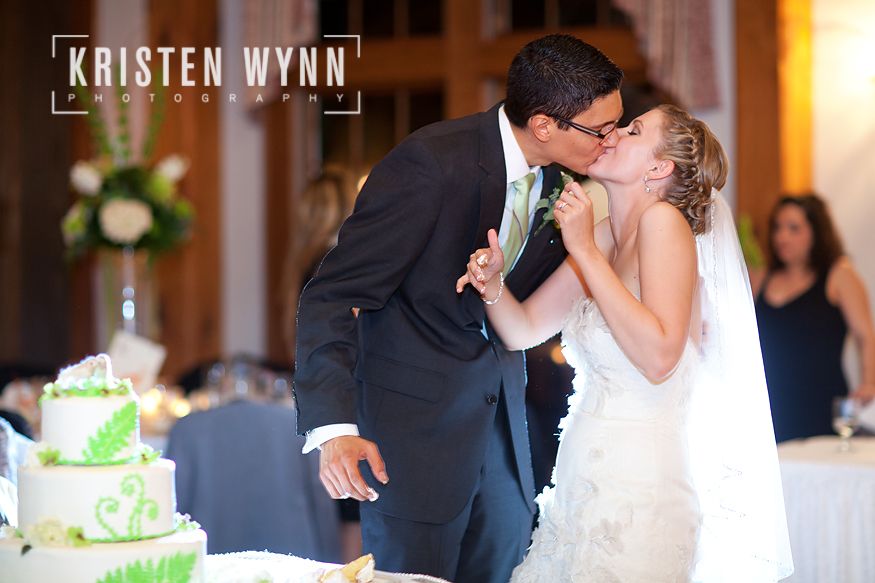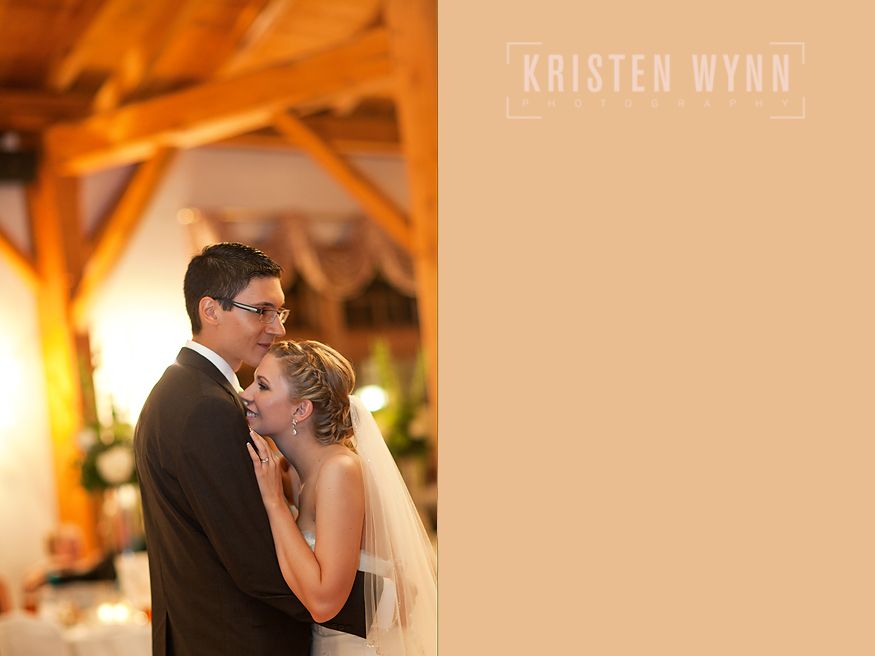 I hope you two had a fabulous honeymoon! I am so honored that you chose me to photograph your beautiful, emotional wedding day. I wish you so much love and happiness in your lives together and please keep in touch!