Where are your images right now? Are they still on the DVD set you selected from Kristen Wynn Photography?  Maybe they're on Facebook too.
You invested a lot in your wedding day or portrait session. You had your hair and makeup done, new outfits for the whole family, maybe a manicure, had your engagement ring cleaned, your husband had his hair trimmed, I know some of you even whitened your teeth for the big day. You spent time planning locations and pinning inspiration shots on Pinterest.
And yet the biggest photo you have displayed in your home is an 8×10″. An 8×10″ is what we refer to in the industry as a "desk print," meaning it is placed on a table. 8×10″ are usually too small to be put on a wall as a rule of thumb.
Why not go bigger? I know 24×36″ sounds big, but when you hang it on the wall, it's just right.
Amy and Will chose a favorite image from their Oakland, Pittsburgh engagement session last winter and had it stretched and mounted on canvas.
When the order arrived here at the office, I loved it. I wish I could have kept it as a sample for my office walls, but alas, it had to go to its rightful home at Amy's place.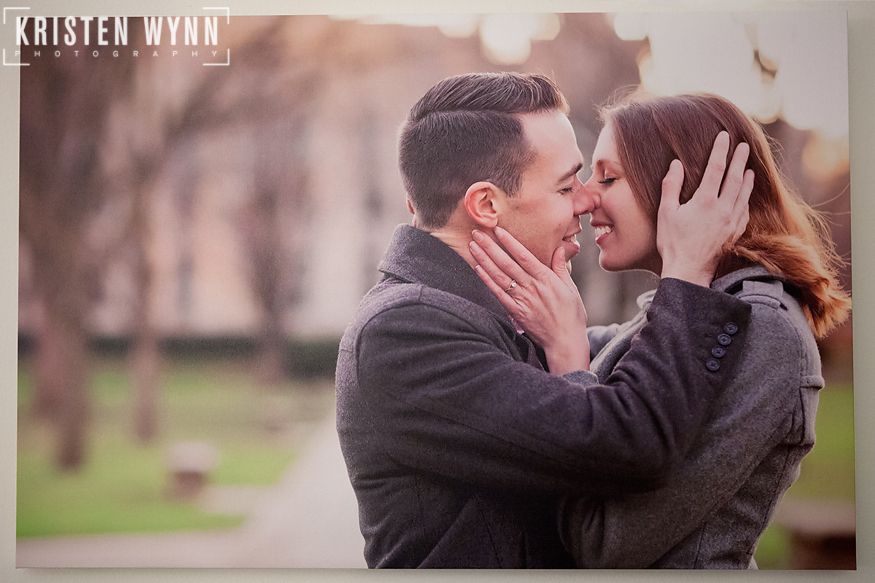 As I packaged it for delivery, I couldn't resist taking a few photos of the canvas image. Thanks so much, Amy and Will, for the inspiration for this blog post!
If you are seeking some wall decor from your session, check out the Kristen Wynn Photography Product Guides here under the Pricing tab.