(Second shooting for Verola Studios–all images used with permission–thanks so much and always great to work with you!)

This image is an example of moving a detail, the reading, into the best light and background possible.
The best advice I can give you when it comes to picking out locations for wedding photography portraits is this: "What looks good to the eye doesn't necessarily look good to the camera."
Most wedding photographers know this well, and it's why we just sort of smile a little knowing smile when mom or grandma announces in the bridal suite "Oh, it will be beautiful for photos today–it's very, very sunny out! Not a cloud in the sky! Get shots in front of the fountain!"
Yes, we can and do shoot in all kinds of situations–it just may take longer to set up as we'll need to pull out reflectors or lights and adjust them to overpower the sun or fill in the shadows.
But the best spot for photos isn't necessarily that picturesque fountain, for example. I care less about backgrounds and more about lighting the subject properly. You want to be able to see your face and your groom's face clearly and have the image be flattering. Who cares what the background looks like (there are ways to minimize a bad one)–you're not marrying that fountain or that cityscape or that old door, after all–at least I hope not! 😉
The bride was cooling off in the church when I wanted to get a little more artistic photograph. While there weren't any windows in the room to provide natural light, the interesting surroundings and foreground overpowered that for me and the existing light was definitely workable!
My advice is this for all images on your wedding day, something to keep in mind when you plan your prep, ceremony, portrait, and reception locations (I will be happy to help you with this!):
1. Light
2. Background
From best to worst:
Great lighting and a beautiful background is the ideal situation and will give you the best images. Nice windows and an uncluttered/distracting space is best. Think of a home that's staged to sell–neutral paint on the wall, room to move around, very little personal items left around, clean, crisp, and bright with natural light.
Great light and a bad background can be worked with in my experience by a shallow depth of field, the photographer cleaning up the area a bit to remove distractions (such as in a prep room) or the bride draping or using uplighting to make the space more appealing at the reception.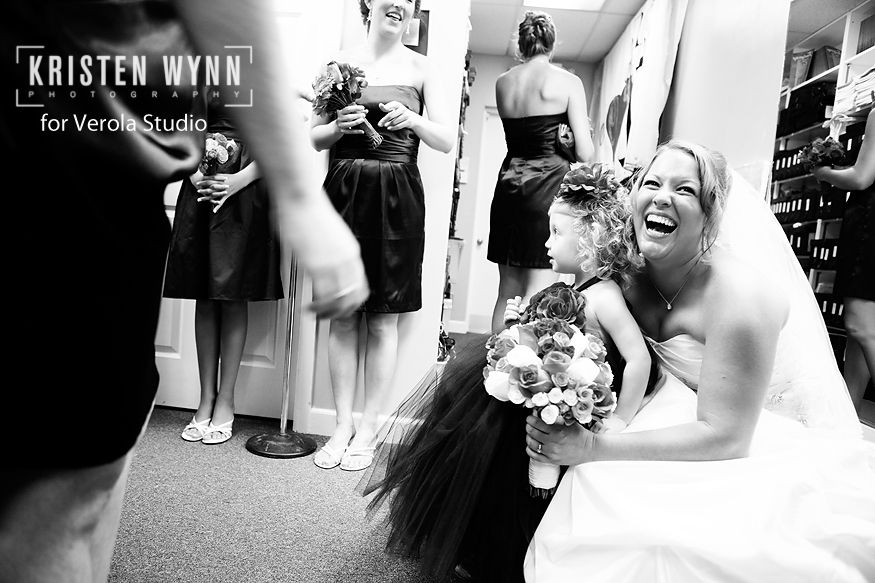 The background here was busy! You have the dresses, the flowers, the carpet, the metal stanchion, some artwork on the back wall. But the lighting was pretty nice, and you definitely don't want to miss a moment of pure happiness of the bride seeing the flowergirl. So going with a black and white was my choice to keep the focus on the subject.
A great background and bad lighting can be overcome with the use of external modifiers by the photographer, such as the use of auxiliary lighting. This will take longer, so add to your schedule if you have an amazing background you definitely want on your wedding day. The shot may be different than you envisioned (looking at each other instead of the camera to minimize weird face shadows, like a shadow mustache), but still possible.

Bride Brittany and her husband had an attractive reception venue, and they wanted to make it even nicer with uplighting and draping on the ceiling. This is a really cost-effective way to make a big impact–uplighting photographs wonderfully! Because it was dark in the hall with no natural light, we took the time to set up flashes both in front and behind them for the best background AND lighting–win/win situation!

A busy background and no good lighting is the situation that makes us really have to get creative. 🙂 Think a dark cluttered space in the church's basement lit by fluorescent bulbs, for example. Can it be worked with? Of course, but it takes time and you won't love the results as much as having the photographer choose a better spot for, say, family formals, if he/she thinks it would be the stronger image. I'll work with the bad background and the tough lighting for the candid things I can't control, and orchestrate better spots for the things I can, such as details or bride portraits.


I really like the background and the lighting here (both photographer flashes and uplighting decor) but what really makes for a fun wedding portrait is bringing out your personalities and having a good time!