You may have noticed that I don't have photos of myself on my website or my blog-that's for a few reasons.
One, as a photographer, I'm the one that takes all the photos! So it logistically is hard to find someone to take a photo that will be to your standards. (I've tried the whole tripod it and then run thing…but I need help posing myself!)
Two, as a photographer that uses my name as a business name as well, I value my privacy and like a degree of anonymity that comes with not posting my photo. 🙂 I'm an introvert like that, what can I say?
Three, I believe the focus for clients that come to my website and blog should be on my work and the clients' moments, because the wedding day isn't about me at all. It's about you.
But then I ran into a dilemma. I wanted to show what can be done as far as retouching and give a little glimpse into my behind the scenes work, mainly to show how much time goes into an image in post-processing. I previously showed how composites are possible with my friend Jen's family. This round, I wanted to show how I retouch my client's skin, eyes, hair, teeth, etc on portrait shoots and select wedding images (blogged, album, favorites, and prints) to let their images reflect their confidence and beauty.
The problem-I would never, ever, ever put an unretouched image of my client out there and then point out how I enhanced their shot, as this would call attention to the "before" areas, whether that be some small smile lines, a slipping bra strap, etc. That makes no one happy, and if retouching is done correctly, the client should never know what has been nipped or tucked or smoothed.
So the only image I could show a before and after of is…*gulp* a photograph of myself. I would be lying if I said I wasn't nervous to put this out here. My own husband *rarely* sees me without makeup. Like most women, I won't post unflattering images to Facebook. And yet, I'm coming on here and showing all my clients.
My friend Jen (of the fabulous Jen Stevenson Photo) took this image for me in the middle of her family session. Here it is with no retouching, perfectly exposed, posed, and composed, but not fully retouched. As photographers, we sometimes will exchange RAW images and edit ourselves.
The cameras today, and Jen has the top of the line, really show every single pore. We were in the shade, so the light is a little blue-when you shoot RAW images, this has to be manipulated later.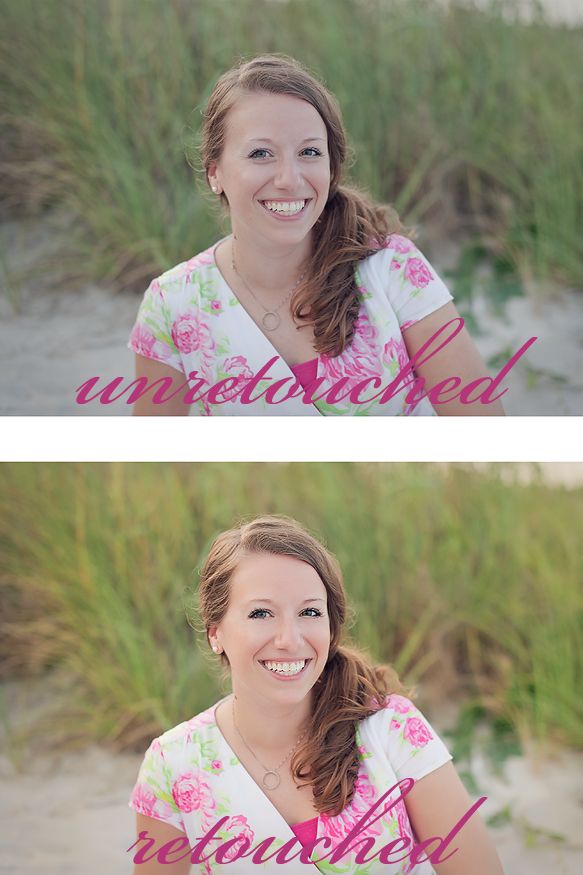 In the after image, I removed the bruise from my left arm and the sand from my face. My guideline is to remove anything that's not there all the time (so I leave intact birthmarks). I also removed the clasp on my necklace and the bags under my eyes-I guess I wasn't getting restful sleep! I did my skin smoothing I provide for all clients on select images.
And lastly, I sharpened for web or print, especially the eyes, which is necessary for RAW images to come across nice and crisply.
I'm not professing to be a magazine-caliber retouching expert, and I try not to do it with a heavy hand. I just want my clients to look as amazing as they feel and display their images with confidence. The camera can add ten pounds and show us wrinkles and blemishes that we don't see with our naked eye, so I like to restore that look in the portraits.
I hope that sheds the light on just a little of what professional retouching is capable of and one of the reasons we spend so much time in editing perfecting the images.