Do you have a young child? Or maybe you are one of my brides and plan on having a few children involved in your wedding as a flowergirl or ringbearer? Then this blog entry is for you! 🙂
When I am providing images from a wedding or portrait session, I don't provide images where the eyes are closed or people are not looking at the camera. Of course, I take a lot of images to insure this doesn't happen and we have one where everyone is looking at my lens.
But during the wedding day, guests are often using their point and shoot cameras to try to capture the shot, causing people to look away, especially after a few drinks! 🙂
At a family session, your child may be distracted by something. You know how tough it can be to get a good shot of your child at home too. And then there's always the tough choice…
Say Sally looks best in Image A, while Bobby has the best expression in Image B, and mom and dad, you think you look your best in Image C. In the pre-digital age, you often had to just pick a mediocre shot where everyone was facing the camera, regardless of expression or hand position, and settle for that shot you didn't love.
Now, with the editing services of a professional photographer, you can have the best of both worlds, and one or more images can be combined to create the best shot. If you have one or more little ones, it is VERY helpful!
You'll see from this before and after, I try not to do a ton of editing, preferring instead to capture the shot correctly right out of the camera through proper posing and exposure. But, sometimes, a little Photoshop lets us capture the best of Miss L AND Miss A's expressions from two different images, plus a third image was combined to fill the now new space between the little ones 🙂
So here's a little behind the scenes to show you the transformation!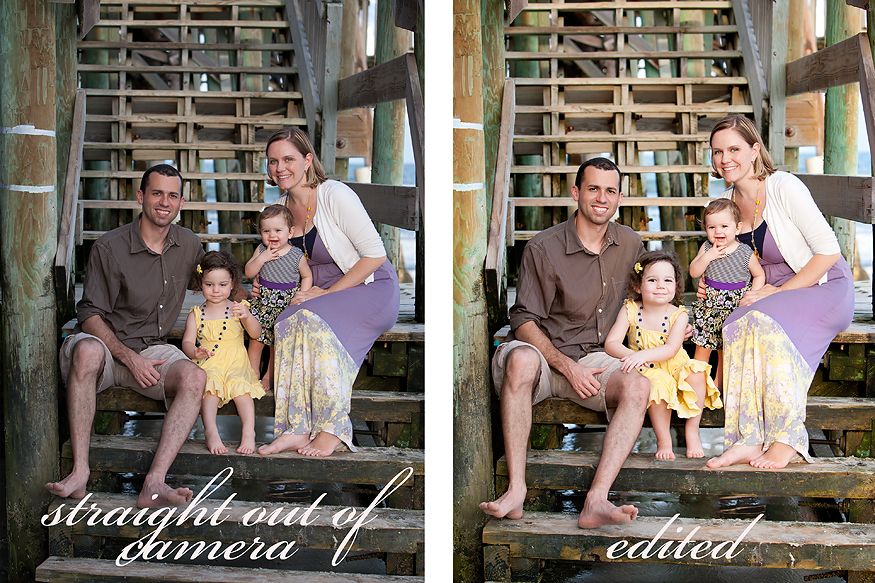 Now, if I get *really* brave, I will show you a before and after of my headshot to show you just what can be done, but I'm almost afraid to put my unedited image out there for all of you on the Interwebz to see, yikes!