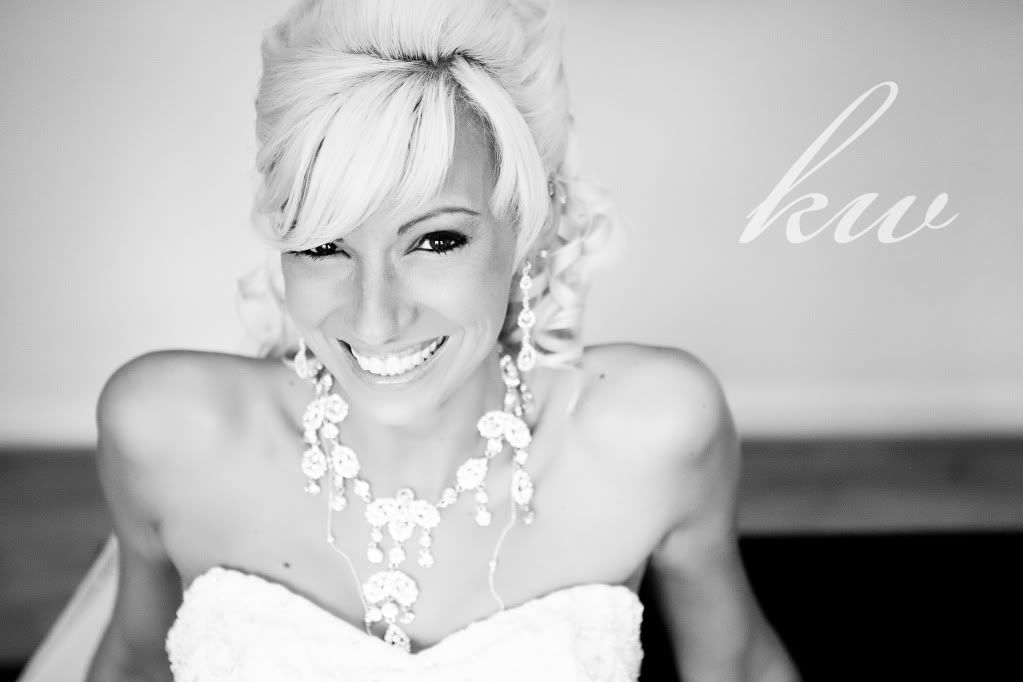 Amy met me when we were both working another wedding, the wedding of Amy and Tom last summer. Amy was the hairdresser for that wedding and even appeared in some of their images.
On her wedding day, Amy was even working a bit despite her boss's protests, as she wanted to do a few styles for some of the bridesmaids.
With Amy being a hairdresser, I knew that her wedding day hair would be fabulous and she did not disappoint. I've never seen more beautiful wedding day hair ever, and the jewelry she chose was perfect. She also wore her grandfather's ring around her neck. Upon hearing this plan, I wondered "How is she going to incorporate this?" but she made it work on a long, thin silver chain.
The colors were hot pink, white, and black, and the white and black was actually incorporated as a zebra print.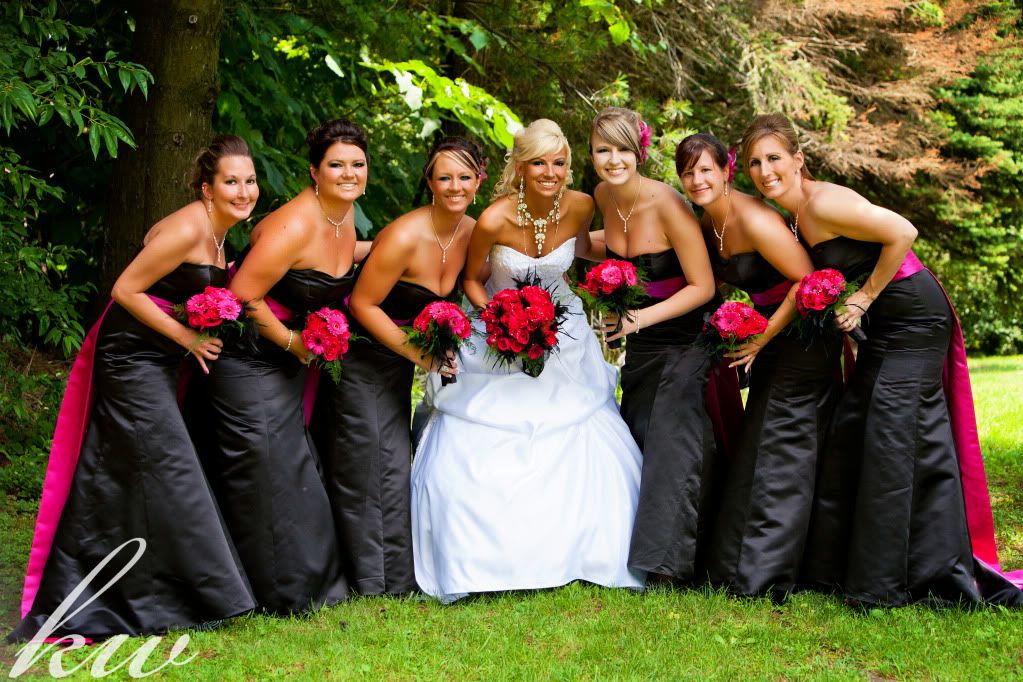 Something unique about Amy and Dennis's ceremony was that they had the opportunity to kiss twice during it. I didn't know Dennis very well before the wedding, but I can tell he's a really wonderful, easy-going guy who adores Amy.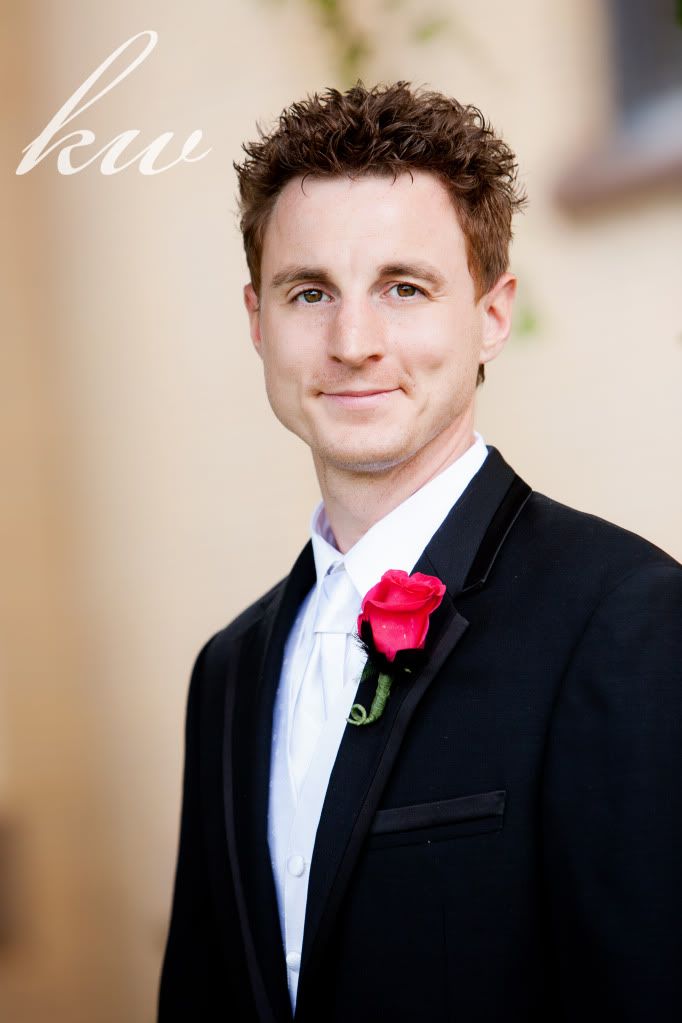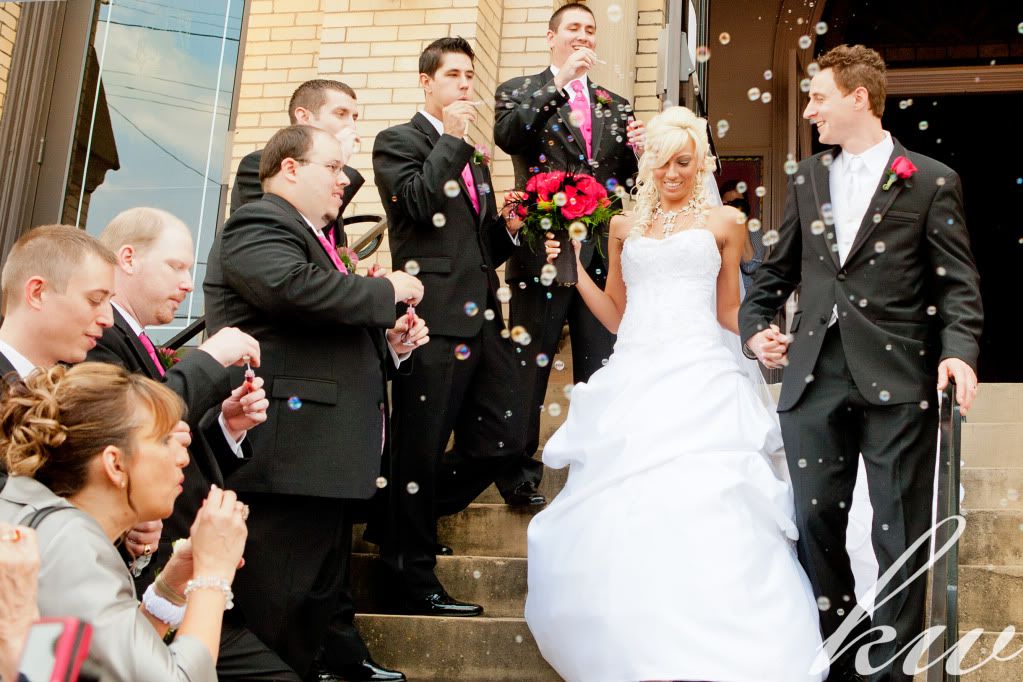 After the church ceremony, Amy and Dennis took their bridal party to a second location where they had obtained permission from their well-connected friend/employer for a few portraits before continuing to the country club for the reception. One of the best parts of hosting your reception at the club is getting to use the golf carts to drive around and take portraits on the golf course. I think the guys in the group enjoyed driving the carts much more than having their portraits taken!
During the toasts, the maid of honor rose and told of how Amy as a little girl always wanted a "big princess wedding." I love when brides have their own unique vision for the day and work hard and achieve it. No two weddings are alike!
She certainly planned her dream day. She had a spectacular church that matched her color scheme with pink walls. She had a full ballgown and a bouquet with feathers. The uplighting transformed the ballroom and the candy buffet was extravagant. But most importantly, she had her perfect groom.
Amy's dress was fairly large, but that didn't stop her from dancing all the steps to "Footloose" at the reception!
I hope you two are enjoying being newlyweds and that you had a great time out on the boat last weekend!
Thanks so much for allowing me to be a very small part of your big day and beautiful wedding! I wish you two so much happiness and love!